nhpolitics
Granite State GOP goes all-in on MAGA candidates
The three projected winners were the candidates who pushed hardest to the right.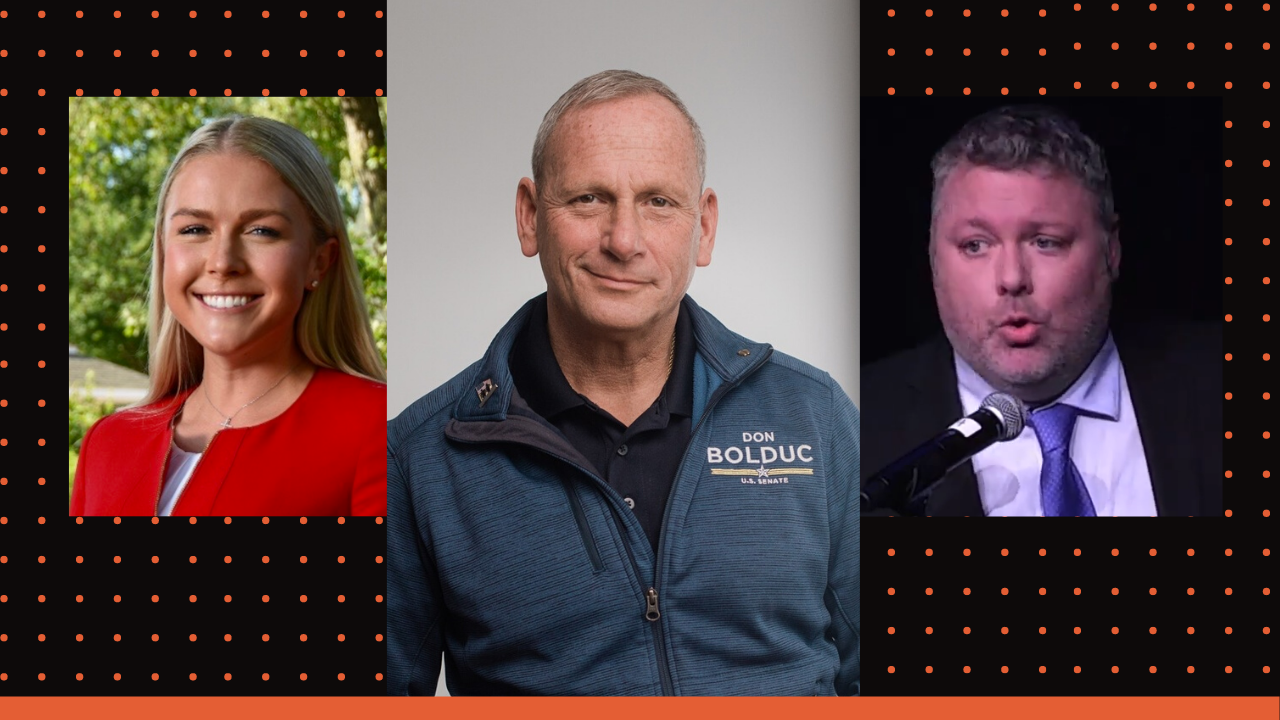 The three Republicans who emerged victorious from the NH state primary on Tuesday for federal office were all the candidates in their races most clearly aligned with former President Donald Trump's wing of the party.
You could argue that at least some of the losing candidates also embraced MAGA messaging. But the three projected winners – Don Bolduc for U.S. Senate, Karoline Leavitt in the first congressional district and Bob Burns in the second – were those generally seen as pushing hardest to the right.
Bolduc, a retired Army brigadier general, beat NH Senate President Chuck Morse, who had an endorsement from Gov. Chris Sununu and backing from the GOP establishment.
Leavitt, who worked as a press staffer in the Trump White House, beat Matt Mowers, who was the 2020 nominee and who also worked in the Trump administration.
Burns, former Hillsborough County treasurer, beat Keene Mayor George Hansel, who had been endorsed by Sununu.
Ahead of Tuesday's vote, establishment Republicans had expressed concern that electing a hard-right slate of candidates could severely hamper odds of GOP victory in the Nov. 8 general election. As the projected primary results rolled in, some unnamed GOP insiders and strategists told NHJournal's Michael Graham they are devastated. "I think we're all f—ed," one reportedly said.
These three GOP candidates will advance to face three incumbent Democrats. Bolduc is up against Sen. Maggie Hassan, Leavitt will challenge Rep. Chris Pappas, and Burns will go toe-to-toe with Rep. Annie Kuster.
---
Tweets of concession
#nhsen
#nh01
#nh02
---
Recommended reading
Leavitt claims victory in GOP congressional primary, topping five-person field. "At 25 years old, Leavitt is the minimum age for serving in Congress, She said her youth is a driving force behind her campaign. ... Leavitt painted a dark portrait of American life under President Joe Biden. In her victory speech, she portrayed Pappas, 42, as a Democrat in lock-step with his party." (Todd Bookman for NHPR)
Leavitt upsets Mowers, winning GOP primary for NH01. "Ms. Leavitt, who adopted Mr. Trump's brash style and taste for inflammatory statements, was backed by a host of hard-right Republicans in Congress, most notably Representative Elise Stefanik of New York, the No. 3 Republican, who has also styled herself in the former president's image. In her campaign, Ms. Leavitt unequivocally repeated Mr. Trump's lie that the 2020 presidential election was stolen." (Annie Karni for The New York Times)
Stefanik-backed candidate wins MAGA world face-off. "House Minority Leader Kevin McCarthy (CA) endorsed Leavitt's opponent, former Trump advisor Matt Mowers, and a super PAC aligned with McCarthy spent heavily late in the primary campaign to boost him." Leavitt "courted the MAGA wing of the party." Her endorsers include Rep. Jim Jordan, Sen. Ted Cruz, Sen. Mike Lee, Rep. Madison Cawthorn, and others. (Jake Lahut for Daily Beast)
Leavitt projected winner in fierce GOP congressional primary. "The increasingly combustible battle between Leavitt and Mowers became one to the right, with both showcasing their Trump administration experience. However, Mowers did not go as far as Leavitt when it comes to Trump's 2020 election loss to President Biden. Leavitt is a firm supporter of the former president's unproven claims that the last election was 'rigged' with 'massive voter fraud' and 'stolen.' Mowers, with more pragmatic language, has said that he continues to have concerns about voting 'irregularities around the country.'" (Paul Steinhauser for Fox News)