newsletter
Here's where to find NH state primary election results
Two towns have been selected for the post-election audit of the State Primary Election.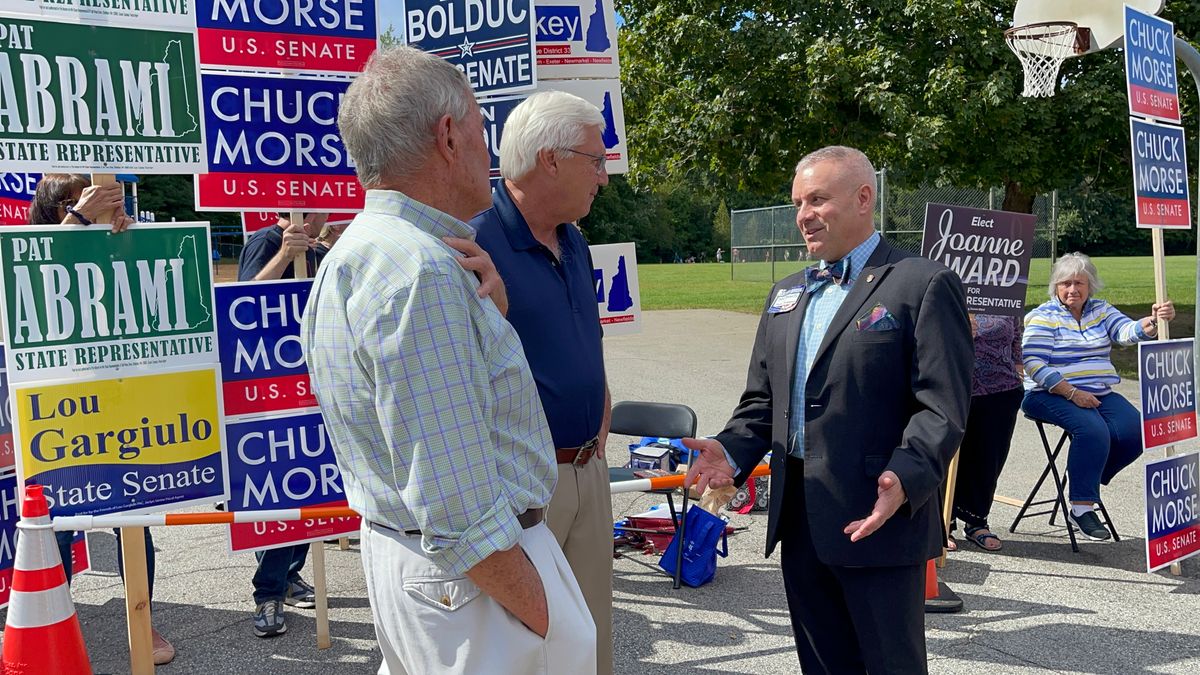 Polling sites in NH begin closing their doors at 7 p.m. today. Here are a couple of places where you can find election results:
---
Noteworthy developments
Election hotline receives more than 100 calls. Shortly after 5 p.m., NH DOJ spokesperson Michael Garrity said the Election Law Unit's Election Day hotline had received more than 100 calls with a variety of questions: about participating in the election, participating in an opposing party's primary, accurately posting election location and timing information, complaints about electioneering at the polls, and "lots of questions about the ability to request hand count ballots," Garrity said. The hotline, 1-866-868-3703 (1-866-VOTER03), will remain open until 8 p.m., and inquiries and complaints may also be submitted via email at electionlaw@doj.nh.gov. (Granite Memo) #voting
Two towns selected for post-election audit. NH Secretary of State David Scanlan's office announced he has selected the AccuVote electronic ballot counting devices in Laconia's Ward 1 and Hopkinton for the post-election audit of the State Primary Election, in accordance with SB 366. Moderators of those two wards were notified Tuesday at noon. This is the first election this procedure will be used.
Audit will be conducted Thursday at 4 p.m. at NH Archives and Records Management (9 Ratification Way in Concord).
Results of the audit will be released no later than Friday at noon.
"The intent of this audit is to test the process of using high speed scanners to be used in the General Election," the secretary's office said.
The secretary appointed eight people to conduct the audit: attorney Orville Fitch, NH Sen. James Gray, attorney Christopher Regan, Senior Deputy Secretary of State Patricia Lovejoy, attorney Eric Forcier, attorney Jennifer Coté, Ira Margulies from Clear Ballot and Orion Marchese from Clear Ballot.
Two people have been appointed to provide technical assistance: Dan Cloutier and John Penney.
NHPR pushes back against NHJournal story about Senate debates. A story by Michael Graham on Monday reported on critics crying foul after Hassan announced she's RSVP'd for three general election debates. The story said Hassan had been "negotiating an agreement with the left-leaning media outlets" NHPR and NH Bulletin "to schedule a debate" in the general campaign. The story said NHPR had struck a "deal" with Hassan. NHPR news director Daniel Barrick pushed back Tuesday, tweeting that the story "is in error" and that NHPR has "communicated with every major NH Senate campaign about fall debates. The allegation in this piece of any 'deal' with any candidates is patently false," he said. (Barrick tweet, Michael Graham for NHJournal) #nhsen
Windham ballot-folding concerns raised again. In a GraniteGrok post, Ken Eyring wrote that absentee ballots have been folded twice, with creases through the ovals. Damien Fisher reporting for NHJournal: "The same improper folds on absentee ballots in 2020 resulted in anomalous results and new state oversight of the vote." Windham is one of three communities that will have state election monitors on site for Tuesday's primary vote. (Damien Fisher for NHJournal) #voting
Get the memo.
Keep tabs on NH politics with updates straight to your inbox.
Sign up for free
Republican primaries focus on insider vs. outsider battles. "Most candidates in GOP primary contests have worked to show the Republican base just how much they stand against the so-called establishment." (Adam Sexton for WMUR)
Republicans head to primary polls without influence of Trump endorsements. "It's possible that Trump could make a last-minute endorsement, but it would come too late to make its biggest impact. ... The question that will be answered Tuesday is whether the Trump base of the party turns out or if a more traditional state primary GOP base of voters turns out." (Adam Sexton for WMUR)
Midterm primaries wrap up with fresh test of GOP's future. "The GOP is grappling with the possibility of again nominating a candidate who is popular with the party's base but struggles to broaden support ahead of the November general election." (Will Weissert and Holly Ramer for AP) #nhsen
Kevin McCarthy's allies have swept aside dissenters who might derail his speakership bid next year. "Their final targets are on the ballot here Tuesday" in NH. "The final primaries in New Hampshire have drawn outsize attention and money from Republicans and Democrats hoping to influence who secures the GOP nominations. ... the political environment has shifted. Few Republicans now expect to net the huge number of seats as they projected months ago..." (Ally Mutnick and Olivia Beavers for Politico) #nh01 #nh02
Republicans fret over "too Trumpy" NH primary candidate Don Bolduc. "A veteran of 10 tours of Afghanistan, Mr Bolduc has falsely claimed that coronavirus vaccines contain microchips and that Donald Trump won the 2020 presidential election. ... Republican prospects of retaking the Senate have dimmed ... Top party figures are fretting a Bolduc nomination will doom the effort." (Sam Cabral for BBC News) #nhsen
More insight into the back-and-forth over a possible Trump endorsement in the GOP Senate primary. Trump was thinking about endorsing Chuck Morse, who met with Trump in NJ on Sept. 2 and spoke with him by phone on Thursday. "During their meetings, Mr. Trump complimented Mr. Morse's fund-raising prowess in the state and his record of public service. ... people close to the former president said Mr. Trump seemed less excited about Mr. Morse's candidacy compared with other Senate candidates he has backed this year." Then Trump spoke positively of Don Bolduc in a radio interview this month. (Trip Gabriel and Michael C. Bender for The New York Times) #nhsen
Manchester Ink Link issues its first-ever political endorsements. "Unlike the endorsements from most publications, our endorsements are not predicated on policy. ... Still, there is one adage that we believe here at Manchester Ink Link that we think everyone in Manchester can agree with: 'the world is run by those who show up.'" So the publication is endorsing the list of candidates who responded to the publication's voter guide questionnaire. (Andrew Sylvia for Manchester Ink Link) #mht
More headlines: