nhpolitics
With big ad buy boost, can Chuck Morse catch up?
Some see poll numbers as a clear sign that Don Bolduc is headed for victory, but the GOP primary for U.S. Senate could still see a major shakeup.
Good morning, Granite Staters. The holiday weekend is just about here. Find some time to rest – but if you're running in a contested primary, don't snooze too long. We're just 11 days away from the NH state primary and 67 days away from the general election.
—Steven Porter, @reporterporter
---
Surge in support might give Chuck Morse fighting chance
With a sudden gust of wind at his back, Chuck Morse just might have a shot at winning the GOP primary for U.S. Senate, though recent polls suggest he'll have to sprint through the homestretch if he hopes to overtake frontrunner Don Bolduc.
Morse was the preferred candidate for 22% of likely Republican primary voters in a Granite State Poll conducted Aug. 25-29 by the UNH Survey Center. That's a huge improvement from four months earlier. But he's still 21 points behind Bolduc, who led with 43% in the August survey. (The other GOP candidates – including Vikram Mansharamani, Bruce Fenton and Kevin Smith – each polled at 5% or less, with a margin of sampling error of ±3.3%.)
Some see these numbers as a clear sign that Bolduc is headed for victory, but he may be more vulnerable than he seems, especially if Republicans start throwing punches that make members of his base cringe, as Michael Graham wrote for NHJournal: "Shake a chunk of his voters loose, and suddenly the race is a free-for-all."
Big ad buy to boost Morse
It looks like Republicans at the national level will spend a hefty sum to support Morse's candidacy. White Mountain PAC, a GOP-aligned super PAC that filed Tuesday with the Federal Election Commission, bought more than $4 million of TV ad time to back Morse with an ad that focuses on immigration and finishing the southern border wall, as Natalie Allison reported for Politico:
The New Hampshire race, the last competitive Senate primary of the midterms, is one of Republicans' top Senate pickup opportunities this year as the party fights to take back control of the evenly divided Senate.
Bolduc spokesperson James Thompson told Politico the ad buy will "backfire with grassroots voters" who like Bolduc's "outsider" status and "fresh perspective."
Republicans aren't the only ones pouring cash into this race. Democrats are meddling in this primary, too. Senate Majority PAC, which is aligned with Majority Leader Chuck Schumer, will start running an ad Friday that links Morse to longtime Senate GOP Leader Mitch McConnell, as Paul Steinhauser reported for Fox News. Veronica Yae-in Yoo, a spokesperson for the super PAC, called Morse "McConnell's handpicked candidate."
Morse recently debuted a new TV ad of his own. In it, a narrator says Morse built his business with "hard work" and "no illegals." The spot blames President Joe Biden and House Speaker Nancy Pelosi for border woes and says Morse will "stop the flood of crime and drugs." His campaign said they will spend $300,000 to run the ad statewide on broadcast and cable, as Steinhauser reported for Fox News.
Endorsements could cut either way
One in five likely GOP primary voters remained undecided in that August poll about their Senate pick. An endorsement from Gov. Chris Sununu or former President Donald Trump could nudge those undecideds one way or another.
The poll suggests Sununu's endorsement would have a greater net positive impact than Trump's endorsement in this race:
Among undecideds, only 21% said a Sununu endorsement would make them more likely to vote for that candidate, while 7% said they would be less likely to vote for a Sununu-endorsed candidates.
While 41% of undecideds said a Trump endorsement would make them more likely to vote for that candidate, another 36% said they would be less likely to vote for a Trump-endorsed candidate.
Neither Sununu nor Trump has said whether they will make an endorsement in this race, but even the most risk-averse gamblers may be tempted to guess about which horse each would pick if they were to weigh in before the primary. Sununu, who has made clear he won't back Bolduc, is believed to favor Morse, but some worry a formal endorsement from Sununu could spur Trump to back Bolduc, as Allison reported for Politico.
Trump, who didn't endorse Bolduc's campaign in 2020, spoke highly of Bolduc during an interview Thursday on The John Fredericks Show. That said, there are also signs Morse and Bolduc may both be "solidly in the running" for Trump's endorsement, as Kevin Landrigan reported, citing unnamed GOP sources.
In the meantime, Bolduc and Morse are showcasing the endorsements they've racked up so far, including a couple of noteworthy additions this week:
Rep. Matt Gaetz, R-Florida, a close Trump ally who has made crass comments and faced serious accusations, tweeted Tuesday that Bolduc is "a Patriot and a champion" for NH people. Bolduc thanked Gaetz and tweeted, "Granite Staters are looking for an Outsider!" (NH Democrats Chairman Raymond Buckley said Bolduc's acceptance of the endorsement shows he is an "an extreme, far-right candidate.")
The Messenger, a weekly newspaper in Hillsboro, endorsed Morse as the GOP candidate best prepared to win against Maggie Hassan in November. "We know that Morse can beat Hassan because he's done it already," the editorial states. "When Hassan was Governor, she opposed every attempt to cut the state's punishingly high business taxes, even vetoing a balanced budget because it cut business tax rates. But Morse held Republicans together, pushed the Legislature to override Hassan's veto, and started a series of tax reforms that have made New Hampshire's economy the strongest in the Northeast." (Morse was also recently endorsed by the Union Leader.)
Republican candidates make the rounds
This week, NHPR has been airing interviews with the five major Republicans running for the U.S. Senate. NHPR's Rick Ganley asked each candidate about election security misinformation, inflation, abortion restrictions, climate change, immigration and border enforcement.
The Keene Sentinel has also recently published stories based on editorial board interviews with Bruce Fenton and Vikram Mansharamani.
Libertarian candidate qualifies for ballot
Jeremy Kauffman, who is running for U.S. Senate, filed a ballot access petition Thursday. The NH Secretary of State's Office deemed the petition complete and valid, so Kauffman will appear as a third-party candidate in the November general election.
When asked whether he expects to be elected, Kauffman told Granite Memo that winning will be a challenge, since "so many wealthy, out-of-state donors are supporting the establishment candidates." Even so, Kauffman, a Free State Project board member, said he'll use conventional and unconventional strategies to keep getting people's attention.
"I hope my campaign will encourage more New Hampshire residents to embrace liberty, encourage more libertarians to embrace New Hampshire, and force the anti-liberty Republicans and Democrats to embrace liberty positions even when they don't want to," he said.
Hassan putting daylight on right and left
While her GOP challengers sort out which one of them will face off with her in November, Democratic incumbent Sen. Maggie Hassan has been castigating them over abortion rights – a topic she is driving home on the campaign trail, as Paul Steinhauser reported for the Concord Monitor.
During an event at Equality Health Center in Concord, Hassan condemned the anti-abortion views of Chuck Morse, Don Bolduc and Kevin Smith. The major GOP candidates "have been competing to see who can be the most anti-choice," she said, as Kevin Landrigan reported for the Union Leader. Hassan didn't mention candidates Bruce Fenton or Vikram Mansharamani.
At the same time, Hassan is leaving distance between her and President Joe Biden, who recently made waves with his comments about the existence of "semi-fascism" within the Republican Party. "I have concerns that some people seem to think that violence is (an) appropriate way of resolving disputes in our democracy, but I think President Biden's comments just painted with way too broad a brush," Hassan told WMUR's Adam Sexton.
Hassan supporter Ed McCabe, however, told WMUR that Biden's comments were spot on, since some "radical Trump people" stormed the Capitol to block Biden's victory. "Those are fascists, OK? So he's calling them what they are."
Biden reiterated his comments during a speech Thursday night from Independence Hall in Philadelphia, describing what he sees among Trump loyalists – not all Republicans – as an "extreme ideology" that "threatens the very foundation of our republic."
NH House majority leader faces backlash over 2011 racist slurs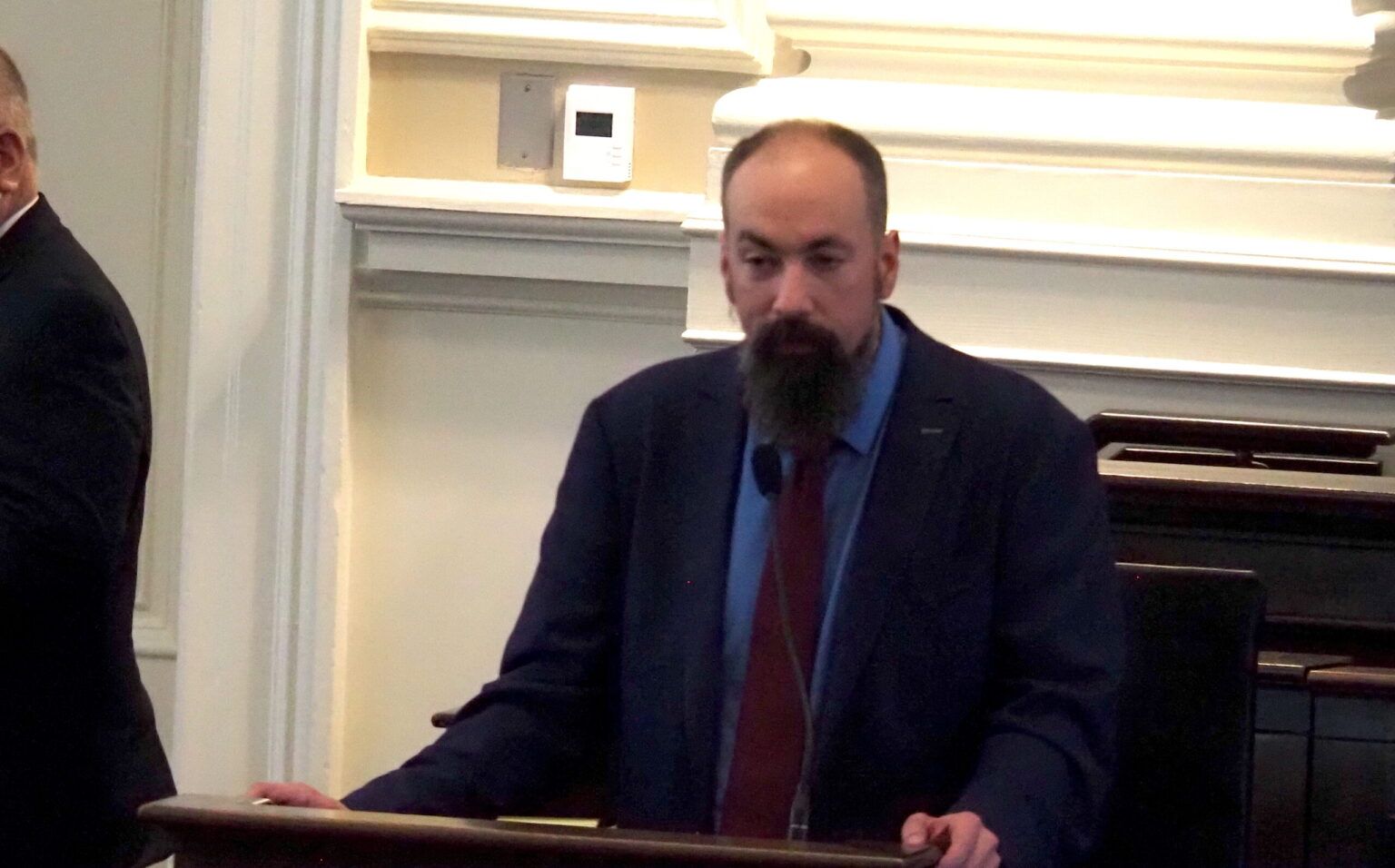 After a Democratic state rep candidate posted a screenshot on Twitter, New Hampshire Bulletin reporter Ethan DeWitt did the legwork of collecting and confirming that NH House Majority Leader Jason Osborne, R-Auburn, had repeatedly used an anti-Black racist slur in an online forum more than a decade ago.
Osborne expressed regret: "I was a different person 10 years ago, who would not have understood the impact of that type of comment. And given the context, the goal of the post was to condemn racism and pedophilia. This is not how I communicate today, and I would never condone such a statement now."
Gov. Chris Sununu, a Republican, condemned the 2011 posts: "No matter the context, these words are horribly inappropriate and wrong. Representative Osborne's unequivocal remorse and apology is certainly warranted."
NH Rep. Matt Wilhelm, D-Manchester, called on Osborne to resign and criticized Sununu for not also calling for his resignation, as Nancy West reported for InDepthNH.
Osborne rebuffed calls for his resignation. "Out of the numerous inappropriate comments made by members during my tenure as majority leader, I have never called for anyone to resign, or be removed from their position. I do not expect others to hold me to a standard I would not hold them," he said, as WMUR's Adam Sexton reported.
NH House Speaker Sherman Packard said he will not remove Osborne from his leadership position over the 2011 forum postings, as Michael Graham reported for NHJournal.
Kathleen Cavalaro, the state rep candidate who resurfaced Osborne's old posts, reacted to the New Hampshire Bulletin story with a tweet suggesting Osborne's past comments are relevant to his support for the state's "divisive concepts" law.  
In other #nhleg news: Intraparty tensions high as GOP primary nears
The race for NH Senate District 16 typifies the NH divide. NH Rep. Barbara Griffin, a traditional Republican, is running against NH Rep. Michael Yakubovich, a Liberty Republican with ties to the Free State Project. "While supporters of the candidates battle over who is a 'real Republican,' some insiders expect Griffin to do well in her hometown of Goffstown and for Yakubovich to hold down his home base in Hooksett with a split in Manchester Ward 1. That means whoever can reach and win over conservatives in Candia and Raymond could be on their way to the state Senate," Adam Sexton reported for WMUR. Meanwhile, June Trisciani, a Manchester at-large alderman and rising star among NH Dems, will run in Senate District 16 as a write-in candidate, Kevin Landrigan reported for the Union Leader.
Free Stater steps down as Belknap County delegation chair. During a contentious meeting Thursday, NH Rep. Mike Sylvia, R-Belmont, claimed an Aug. 1 emergency meeting related to the Gunstock Area Commission was illegal. Sylvia, who is running for reelection, moved to another seat at the table and didn't resign from the legislature. Also during the meeting, NH Rep. Barbara Comtois, R-Center Barnstead, stepped down as secretary of the delegation, and NH Rep. Dawn Johnson, R-Laconia, stormed out of the meeting, as Paula Tracy reported for InDepthNH.
Four GOP candidates seek two seats in NH House District 6. Two incumbents, Brodie Deshaies and John MacDonald, are facing a Sept. 13 primary challenge from Lawrence Borland and Katy Peternel. All are from Wolfeboro. Candidates were asked by Daymond Steer for Conway Daily Sun about their backgrounds, qualifications, views on recent NH legislation and top issues looking forward. They were also asked whether they would vote for Trump again in 2024 – one candidate said no.
---
#nhgov
Gov. Chris Sununu is likely to win the GOP gubernatorial nomination "easily." That's what pollsters said when they released numbers Thursday showing Sununu leading at 72%, with none of his challengers polling in the double digits. (Granite State Poll)
Tom Sherman, a Democrat who's running for governor, accuses Sununu of appeasing extremists. "In New Hampshire and across the country we're watching extremists attempt to tear down long-held rights and institutions. Public schools. Reproductive rights. The integrity of our elections. ... For years when it suited his political ambitions, Chris Sununu catered to these extremists, giving them a wink and a nod to keep them on his side," Sherman wrote. (Seacoastonline guest column)
Tom Sherman and other Democrats argue PPP aid for businesses is comparable to student loan forgiveness. Sununu and others disagree. In response to pandemic lockdowns, nearly 24,000 PPP loans were issued in NH, "the vast majority going to small businesses." Great New Hampshire Restaurants CEO Tom Boucher said PPP and college debt "aren't even close to the same category." (NHJournal)
Libertarian candidate Karlyn Borysenko filed a ballot access petition Thursday. Officials deemed the petition complete and valid, so she will appear as a third-party candidate in the November general election. Third-party candidate filings are due Sept. 7.
Don't forget about the Executive Council. This story by Annmarie Timmons for the New Hampshire Bulletin shows how influential the council can be:
---
#nh01
Big gains for Gail Huff Brown in the latest Granite State Poll. With Matt Mowers leading at 26% and Karoline Leavitt a close second at 24%, Brown rose impressively to 16%, while another 26% of likely GOP primary voters said they're unsure who they'll pick in this race. (Granite State Poll)
Former ambassador Richard Grenell went on the NHJournal podcast to tout Matt Mowers. Grenell, who worked with Mowers at the State Department during the Trump administration, visited Manchester on Aug. 28 for a cookout event with Mowers in the GOP primary for NH01. "He's a smart guy. He's a confident patriot. He's somebody who's brave and courageous," Grenell said of Mowers. (NHJournal)
Republicans set sights on long-sought NH01 win. The district has gone to the GOP only twice in the past decade. "Republicans are also hoping for a breakthrough in the Senate and to oust incumbent Sen. Maggie Hassan ... Given the narrow margins in both the House and the Senate, both races could be paramount to the two parties' hopes to control either chamber of Congress after the midterm elections." (Washington Examiner)
Attack ad targets Karoline Leavitt. The spot, dropped by a Republican-aligned PAC, features a video clip of Leavitt saying, "Listen up, ho bag" into a camera phone. (Michael Graham for NHJournal)
---
#nh02
Three GOP candidates in NH02 primary tussle in two-hour radio debate. George Hansel, Bob Burns and Lily Tang Williams are competing for a chance to face Rep. Annie Kuster in November. All three said Biden won in 2020 by enough votes to win legitimately, though each expressed concerns about vote harvesting. Hansel and Burns are seen as the two leading candidates. Burns has repeatedly been called the "MAGA candidate" by Democrats. Hansel said: "Democrats are propping up my opponents because they are scared of me." (Kevin Landrigan for the Union Leader, Good Morning NH with Chris Ryan)  
Still unclear who's sending NH02 mail anonymously. John Doherty, managing partner of Reynolds DeWalt, told NHJournal that anonymous mailers related to federal elections "get mailed all the time." He refused to disclose the organization that ordered the mailers. Now a Democratic PAC is backing a TV ad bolstering Bob Burns as the pro-Trump choice in the GOP primary. Burns is up against George Hansel and Lily Tang Williams for a shot to take on Annie Kuster in November. (Michael Graham for NHJournal)
Both leading GOP candidates in NH02 race disavow a series of anonymous mailings. The mailers promote Bob Burns as the pro-Trump candidate and claim Burns' leading opponent, George Hansel, does not support Trump's agenda. The shop that sent the mail has done work for Democratic campaigns. The candidates alleged Democratic interference in the GOP primary. (Union Leader, following NHJournal)
---
#fitn
Maryland ⁦Gov. Larry Hogan visited NH to fundraise for NH state reps. "We're pretty divided right now, both in the Republican Party and in the country," Hogan told Paul Steinhauser reporting for Fox News. "In 10 weeks, we'll find out – as the dust settles and the smoke clears – we'll found out where we are as a party," Hogan added. "But I think that's going to evolve into next year. Time will tell which direction we're going to go." (Steinhauser tweet, WMUR)  
Former Vice President Mike Pence, who recently gave a speech at a "Politics & Eggs" event, will return to New Hampshire on Sept. 14, the day after the state primary. "He is expected to attend a fundraiser that day in what a source described as a 'unity event' for GOP candidates who will be on the ballot in November." (Brett Samuels for The Hill)
Mike Pompeo will swing by "Politics & Eggs" on Sept. 20. His appearance will come "amid speculation over a potential 2024 presidential bid." Other potential GOP presidential candidates, including Mike Pence and Arkansas Gov. Asa Hutchinson, have made similar stops in recent months. Pompeo served as CIA director then Secretary of State in the Trump administration. (The Hill, Event details)
---
#nhpolitics
Register of probate: A little-known position becomes a political challenge "The two candidates vying Sept. 13 to be the Republican candidate for Belknap County Register of Probate — Marc Abear of Meredith and the incumbent Alan Glassman of Barnstead — fundamentally disagree on whether the job should be abolished altogether, or restored in full to provide a valuable community service." Voters will decide Nov. 8 whether to do away with the positions statewide. (Roberta Baker for The Laconia Daily Sun)
Lawsuit challenges use of electronic voting machines. Daniel Richard of Auburn sued to assert that NH leaders have no authority to use electronic ballot-counting machines at polling places. A judge in Rockingham County Superior Court agreed to hear arguments Sept. 9, just four days before the Sept. 13 primary. (Kevin Landrigan for Union Leader)
NH Education Commissioner Frank Edelblut speaks with NHPR about the meaning of "an adequate education" and the state's "divisive concepts" law. Edelblut said he defers to the legislature to define education adequacy. (He had testified this year in support of focusing the definition of "adequate" on core subjects, but the definition was expanded after advocacy from teachers.) When asked about the state's 2021 "divisive concepts" law, Edelblut said the restrictions are "anti-discrimination provisions ... because we really want to make sure that none of our students, none of our educators are discriminated against in any way, shape or form." (Julia Furukawa for NHPR)
Leaders to discuss potential removal of four LGBTQ books from Rochester Public Library. Republican NH Sen. Jim Gray, who is also a city councilor, is targeting the books after he received an email from a parent. Library trustees, not the City Council, control the books offered in the library. The topic is slated for discussion at the Sept. 6 council meeting. (Karen Dandurant for Foster's Daily Democrat)
---