newsletter
Cory Booker visiting NH to help Democrats fend off GOP challengers
Democrats visiting NH these days fall into three categories.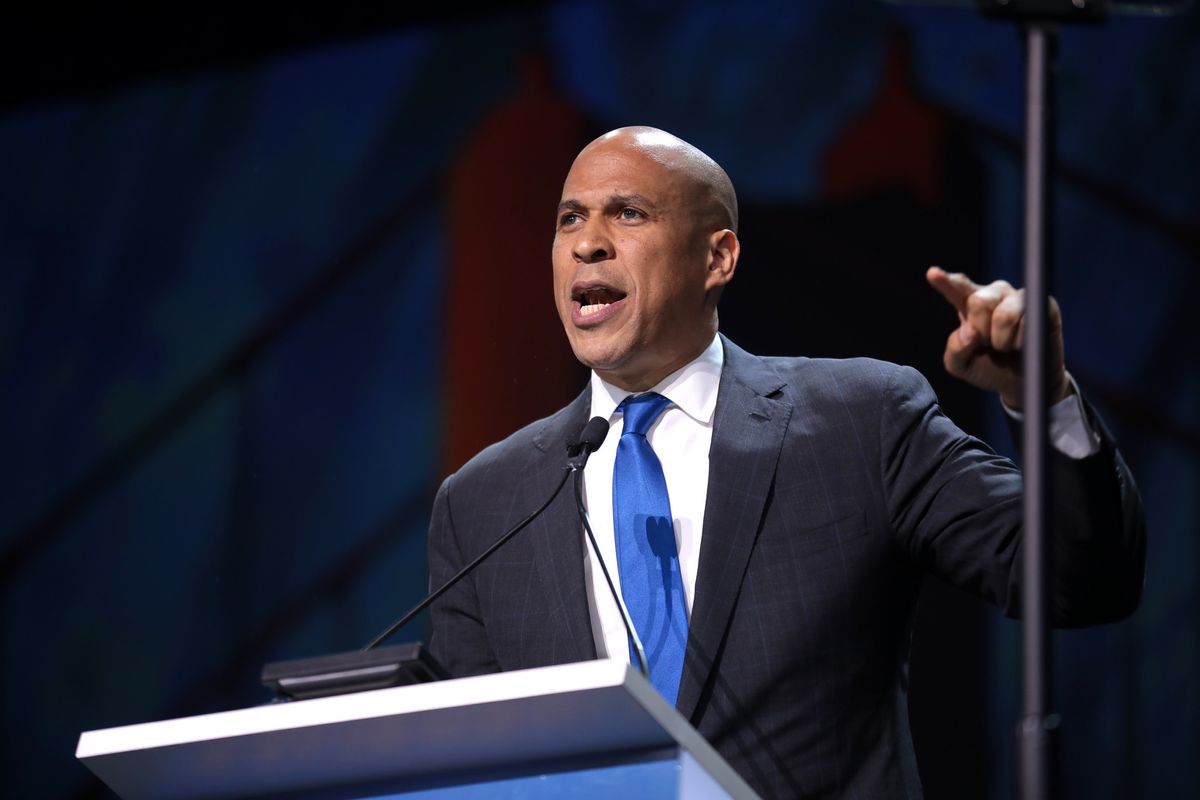 📝
This is your Monday memo.
Not a member? To get the memo straight to your inbox,
sign up for free
.
With just 15 days until the election, the likely outcome of multiple high-profile NH contests remains far from certain. Here's what you need to know to start this week strong and in-the-know:
Cory Booker campaigning Monday with Hassan and Pappas
The U.S. senator from NJ, who ran in the Democratic presidential primary in 2020, will join Maggie Hassan and Chris Pappas on the campaign trail Monday afternoon in Derry and Londonderry. The trio is expected to visit local businesses in those towns.  
Jim Demers, a veteran Democratic operative who worked on campaigns for Obama and Booker, said Democratic visitors to NH fall into three categories right now, as Hanna Trudo reported for The Hill:
Those "good friends" who are coming just to support NH candidates because they have existing relationships;
Those who think, "Even if I don't do something in 2024, it's a great investment in the future in 2028"; and
Those who wouldn't run against Biden but who "don't want to be completely caught flatfooted" if Biden says he won't run for reelection.
Demers said all three approaches are good strategies for NH at this time. (Booker dropped out of the 2020 presidential race before the first votes were cast.)
In the U.S. Senate race, Hassan is up against GOP nominee Don Bolduc, a retired Army brigadier general, and in NH01, Pappas is up against GOP nominee Karoline Leavitt.
Bolduc loses major resource for TV ads
Super PAC aligned with Senate GOP cuts off NH TV ads. "In a sign that New Hampshire is at risk of falling off the map of Senate battleground states, the main super PAC aligned with Senate Republicans said on Friday that it was canceling $5.6 million in television ads that it had reserved in the state for the final two weeks of the race." (Shane Goldmacher and Trip Gabriel for The New York Times)
Bolduc tells Breitbart that his campaign has momentum, even without McConnell's money. "The momentum is going our way because we're campaigning the Granite State way – five events a day is my average out there on the ground – town halls, house parties, community events, you name it. ... we're gonna win this." (Breitbart)
With national GOP pulling out of NH, could Bolduc's low-money primary win be a blueprint? "The shift will mean Bolduc is relying more on grassroots fundraising, less-expensive online advertising and in-person events to meet voters. Bolduc has scheduled several town hall-style events across the state this week and has been a frequent sight at non-political community events through the fall." (Josie Albertson-Grove for Union Leader)
Challengers have their own road maps to victory. For the past 20 years, in every midterm election except one, NH voters have sacked at least one incumbent for federal office. "In this highly-volatile environment, no one holding elective office can be 100% certain they will declare victory on election night." (Kevin Landrigan for Union Leader)
Analyst sees NH01 race tilt in Leavitt's favor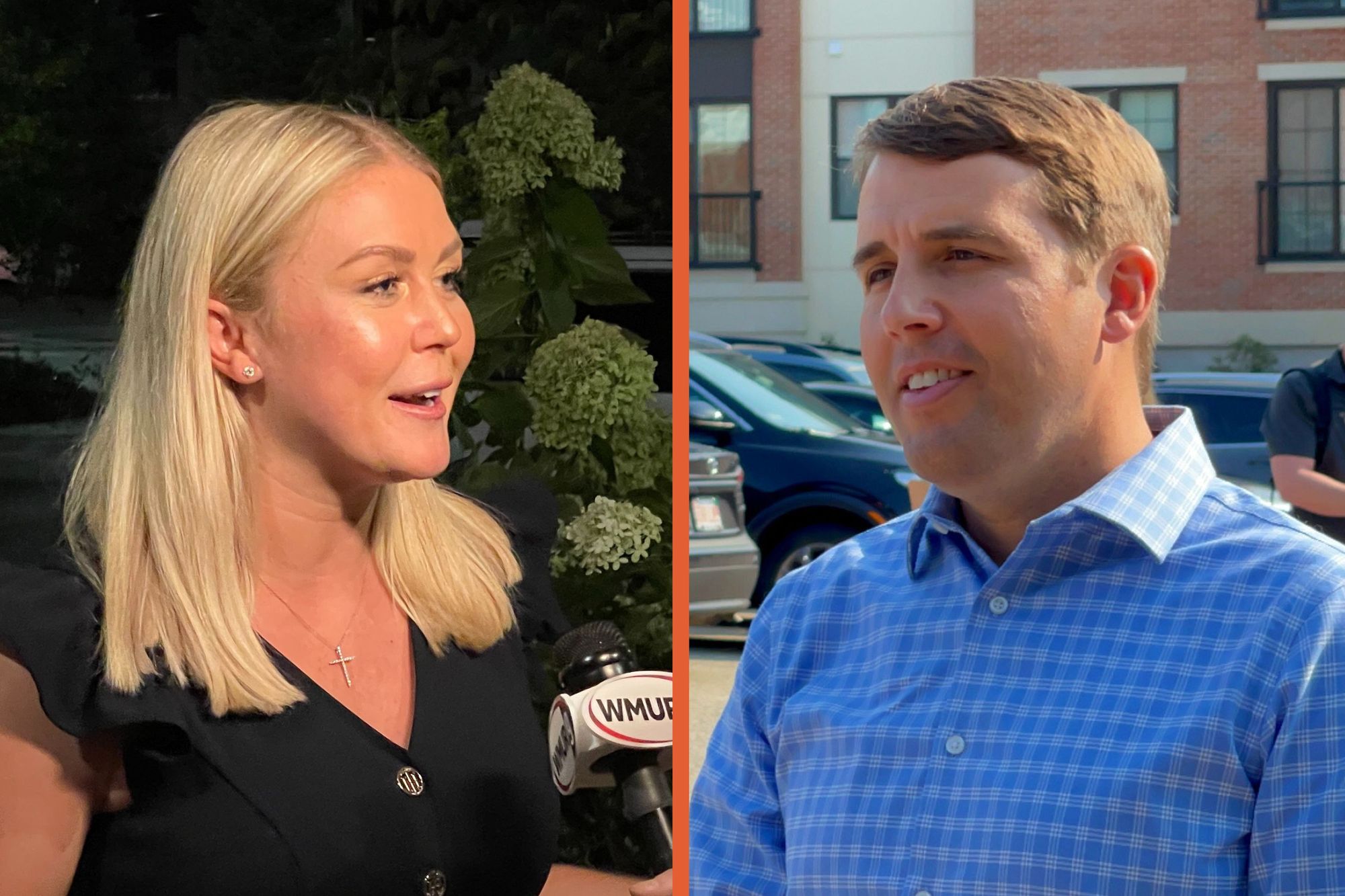 RealClearPolitics moves NH01 race from "Toss-Up" to "Leans GOP" column. "Nobody is saying Leavitt is anything close to a shoo-in. The nonpartisan Cook Political Report and Politico still list NH-01 as a 'toss-up,' while InsideElections and the Sabato' Crystal Ball' at UVA give Pappas the edge with a 'leans Democrat' rating." (Michael Graham for NHJournal)
Pappas and Leavitt sat for CloseUp interviews:
Pappas calls Leavitt an "ideological bomb thrower," and Leavitt hits Pappas on inflation (Adam Sexton for WMUR);
Pappas backs away from vote to strip law enforcement officers of qualified immunity (Adam Sexton for WMUR);
Leavitt stands by proposal to privatize social security (Adam Sexton for WMUR).
---
No room for Libertarian on debate stage?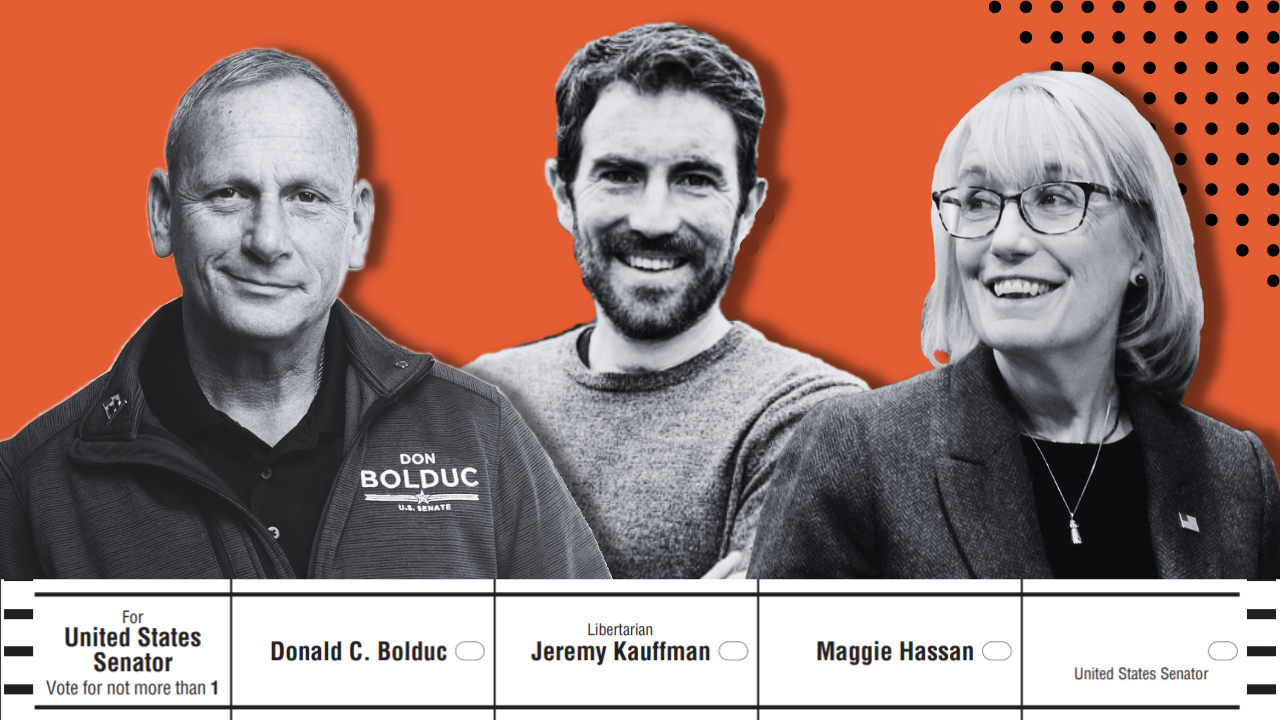 You have surely heard about the debates between the two major-party candidates for U.S. Senate. Hassan announced before the primary which three she would attend and hasn't added any more since. Bolduc accepted those three and called for as many as four more.
But the Libertarian candidate, Jeremy Kauffman, hasn't been invited, even though he's on the ballot. History suggests debate organizers can confidently exclude Kauffman without worrying too much about the FEC's oversight. Even so, his exclusion raises interesting questions about the NH electoral process and press freedom.
Story highlights:
Debate organizers often set a minimum polling threshold. But WMUR's 2022 criteria don't specify minimum quantitative thresholds.
Kauffman's campaign claimed WMUR "fails the test for objectivity" in its debate eligibility criteria.
Former FEC Commissioner Lee E. Goodman said he views media-sponsored debates as news events, "and the criteria a newsroom uses to screen candidates are effectively editorial judgments protected by the First Amendment."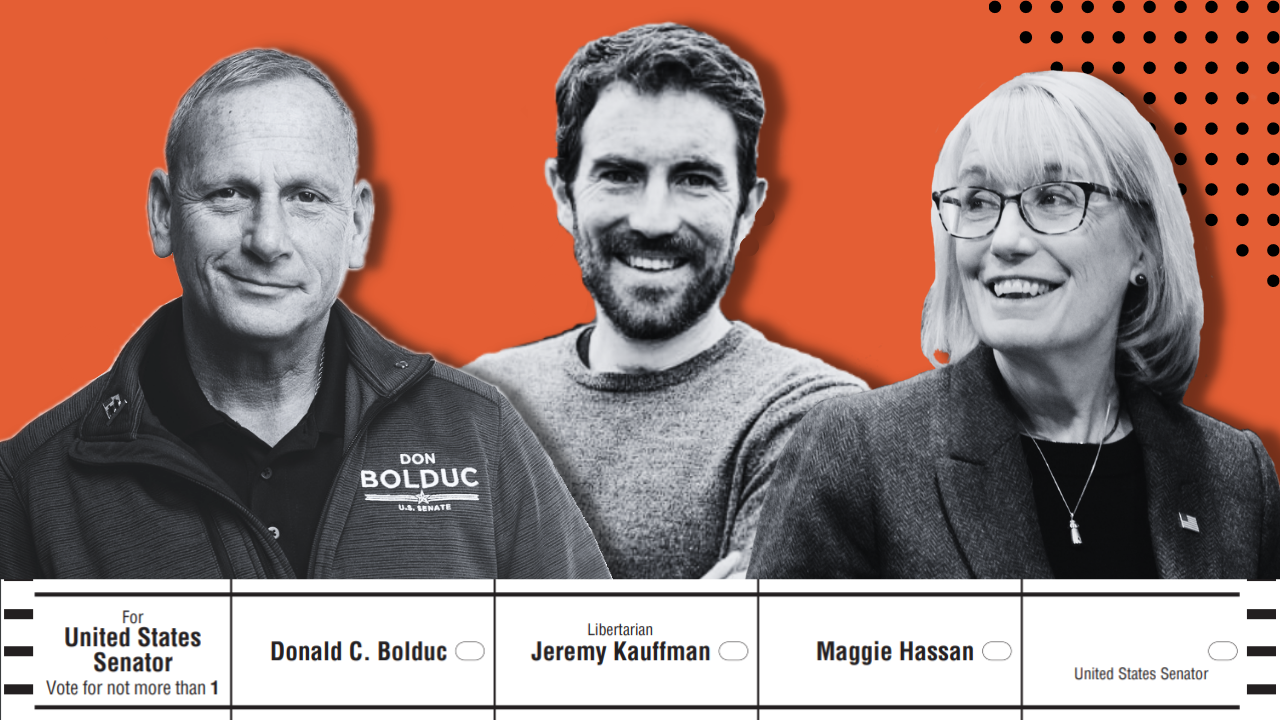 ---
Get the memo.
Keep tabs on NH politics with updates straight to your inbox.
Sign up for free
---
#nhgov
Gubernatorial debate held Monday. Republican incumbent Gov. Chris Sununu and Democratic challenger Dr. Tom Sherman met Monday morning for a debate hosted by the Greater Manchester Chamber. The moderator, Scott Spradling, asked questions focused predominantly on business-related topics. (WMUR livestream)
Sununu warns rental assistance could end as winter hits. "Sununu accused the Biden administration of reneging on $67 million in expected rental assistance without warning, which could bring the program to a close at the 'worst possible time' as residents face rising costs for energy and housing this winter" (Kevin Landrigan for Union Leader). Sherman faults Sununu: "Sununu's response was to cast blame instead of taking responsibility for his administration's actions" (Nancy West for InDepthNH). #nhgov
---
#nhleg
Sabato's "Crystal Ball" sees Democrats' odds of winning NH House improving, though still behind. "In its final ratings before November's elections, the University of Virginia's Center for Politics said the odds Democrats will flip the New Hampshire House have improved, moving it from a 'Likely R' to a 'Leans R' rating." (Michael Graham for NHJournal) #nhleg
Upcoming NH legislative session will be, as Yogi says, "Déjà vu all over again." The NH House is "the Democrats' best hope this election to break the GOP control of Concord. The past two years of Republican control resulted in the state's first abortion ban, a divisive concepts law for schools, education freedom accounts," and more. Reps have until Friday to file requests for Legislative Services to write proposed laws. A look at what state reps have filed so far "should encourage voters on both sides of the political spectrum to head to the polls in two weeks." (Garry Rayno for InDepthNH) #nhleg
---
---
#nhpolitics
Volunteer-powered NH elections buoyed by national recruitment campaigns. "It takes a total of about 5,000 poll workers, including about 2,500 locally elected officials, to run all of the polling sites in the state ... Even so, state and local officials say they haven't encountered major challenges this year finding enough people." (Steven Porter for Granite State News Collaborative via NHPR)
Warning shot? Trump says members of his former administration 'very disloyal' if they run against him in 2024. "The former president, who repeatedly teases that he'll launch another White House bid, may not be the only member of his former administration to run in 2024, as former Vice President Mike Pence, former Secretary of State Mike Pompeo, and former ambassador to the United Nations Nikki Haley have all been making plenty of early moves ahead of potential or likely presidential campaigns." (Paul Steinhauser for Fox News) #fitn
Education Commissioner Frank Edelblut responds to CDC panel's COVID vaccine recommendation for kids. "Edelblut told school officials he was writing to 'confirm that this recommendation … has no impact on immunization requirements for students in New Hampshire.'" (Michael Graham for NHJournal)
Lawsuit alleges N.H. state trooper profiled Latino driver in 2019 traffic stop. "The lawsuit is the second in three years to accuse State Police's Mobile Enforcement Team, a drug-interdiction squad with a history of using minor traffic violations as pretexts to stop and question drivers, of acting illegally during a vehicle stop. A previous lawsuit ... led to a $212,500 settlement." (Paul Cuno-Booth for Granite State News Collaborative via NHPR)
Sysco strike ends with Teamsters declaring victory. "Twenty days into a strike against Sysco, a giant food wholesaler, unionized drivers approved a new five-year contract and declared victory Thursday evening." (Arnie Alpert for InDepthNH)
More headlines:
Correction (Oct. 24, 2022): An earlier version of this post misspelled Hanna Trudo's name.