nhleg
Will a judge let Monday's re-recount play out?
Also: Sununu joined a menagerie of potential GOP presidential candidates, as Trump's 2024 candidacy looms large.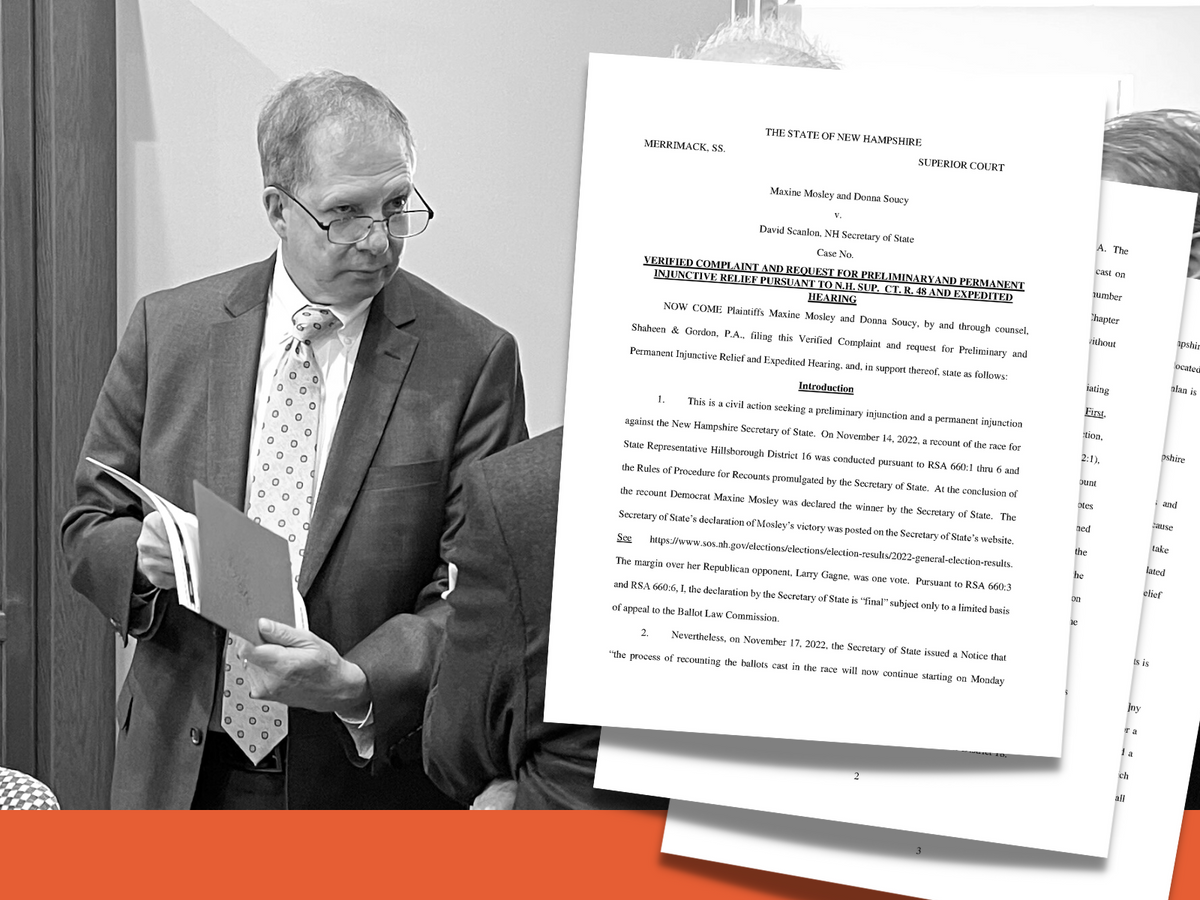 Update (Nov. 21, 2022): The plan to reopen a recount on Monday at 4 p.m. has been postponed. The recount is now slated to continue Tuesday at a time to be determined, according to a schedule revised Monday morning by the NH Secretary of State's Office.
The big question Monday is whether a judge will halt NH Secretary of State David Scanlan's plans to keep tallying votes in a state rep race that already went through a recount a week ago.
Scanlan announced Thursday that he couldn't declare a winner in the Hillsborough 16 contest due to "insufficient certainty" that all the votes had been included in the recount three days prior, so he said the recount would "continue" on Monday at 4 p.m.
That announcement prompted an oh-hell-no from Democrats, who filed a lawsuit Friday asking a judge to block Scanlan's plans. They argued Scanlan named the winner of the recount on Nov. 14, so state law doesn't give him the discretion to reopen the tally.
What's more, since the Republican candidate already filed an appeal to the Ballot Law Commission acknowledging his declared loss in the recount, Scanlan has "no jurisdiction over the noticed second recount," the Democrats argued.
Republicans criticized the Democrats' lawsuit as "a shameless and openly partisan attack on our democratic process." Scanlan's office did not respond to a request for comment.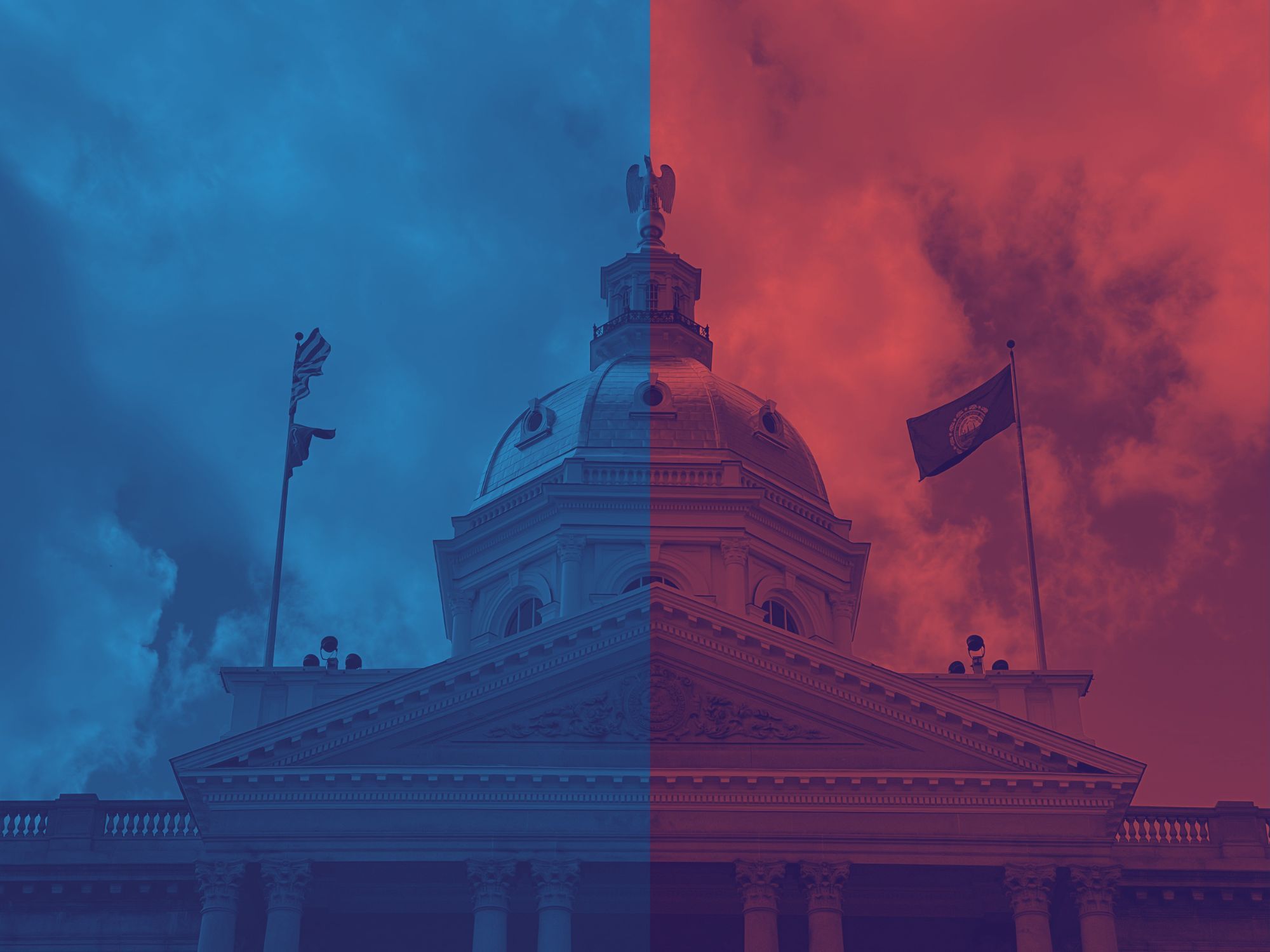 The initial election day tally in this race showed Democratic challenger Maxine Mosley losing by 23 votes to Republican incumbent NH Rep. Larry Gagne, but the recount tally showed Mosley defeating Gagne by 1 vote.
After announcing the recount results Nov. 14 to a room full of observers, Scanlan offered reassurance that the tally had been scrutinized, and he outlined the next step for those who may have concerns.
"We've gone over all the tally sheets multiple times just double-checking the counts," Scanlan said. "Those are all available for you to get copies of, look at, and of course the, you know, the Ballot Law Commission is the appropriate place to go for an appeal."
Three days later, Scanlan announced the recount would continue. That seemed to give the GOP some confidence that the flipped seat would ultimately be un-flipped.
So the outcome of this case might impact who is ultimately seated to represent Hillsborough 16 (Manchester Ward 6). But this case might matter for a few other reasons as well:
The overall partisan balance in the NH House remains incredibly close. Republicans appear to hold 200 seats, while Democrats appear to hold 198 seats, not counting this Hillsborough 16 contest and the Strafford 8 contest that ended in a tie after a recount. There are five more recounts Monday plus multiple appeals likely to go before the Ballot Law Commission in the weeks ahead. Even if the final tally widens the GOP's margin a bit, both parties will be highly sensitive to absenteeism. Every seat counts.  
There's a Democrat challenging Scanlan for his job. Melanie Levesque, a former NH senator who just lost her bid to return to that office, announced last week that she's running for NH Secretary of State. Scanlan, a Republican who stepped into the role in January, is also running. Lawmakers will make their pick on Dec. 7. Although this lawsuit is about the facts related to one state rep race, it also presents an opportunity for Democrats to criticize Scanlan's role in election administration.
New election integrity laws are being put to the test. Democrats are accusing Republicans of ignoring the letter of the laws passed by the Republican-controlled legislature. The way the courts respond to this lawsuit will give us a sense for how some new provisions will be interpreted in practice. That could inform future lawmaking.
Democrats requested a temporary restraining order and a preliminary injunction, as well as a hearing on the matter. It's unclear whether that hearing will happen Monday. No hearing had been scheduled as of late Sunday morning, according to Myles Matteson, deputy general counsel in the NH Attorney General's Election Law Unit. The case is filed in Merrimack Superior Court.
Get the memo.
Keep tabs on NH politics with updates straight to your inbox.
Sign up for free
---
Don't miss these stories
The eight members of the Special Committee on Voter Confidence clearly agreed on at least one thing Wednesday: their final report still isn't quite finished.
Richard Swett, the committee's Democratic co-chair, had said two weeks earlier that the group could reach the finish line at this meeting. But his optimistic timetable faded as members filled their four-hour workshop with at-times zigzagging discussion that reconciled differences of opinion but also recognized a possibility that they might not reach a full consensus in the end. ... [Read the full story]
With the two parties practically tied in the NH House, major decisions about the coming legislative session could boil down to a question of which state reps show up to vote.
Just showing up could be an especially tall order for one Democratic member from Nashua.
Rep. Stacie-Marie Laughton is sitting in jail, and she's expected to stay there for weeks to come. ... [Read the full story]
When county-owned Gunstock Ski Area was temporarily shuttered last summer, Belknap County residents vowed to take their anger to the polls.
They wanted to unseat representatives they believed were meddling in ski area business, the same members who had gutted the county nursing home and sheriff's department budgets.
Only half of last year's delegation is returning, with voters rejecting six incumbents. ... [Read the full story]
... The ruling could create serious financial problems for the 7-year-old company. Judge Paul Barbadoro granted an SEC motion calling for the "disgorgement of all ill-gotten gains from the unlawful conduct set forth here," a decision that, barring a settlement or an appeal, could seriously threaten LBRY's future.
The final settlement could bar the company from operating the credits that power its internal economy, forcing it to lose a key revenue stream. ... [Read the full story]
---
Sununu in the #fitn menagerie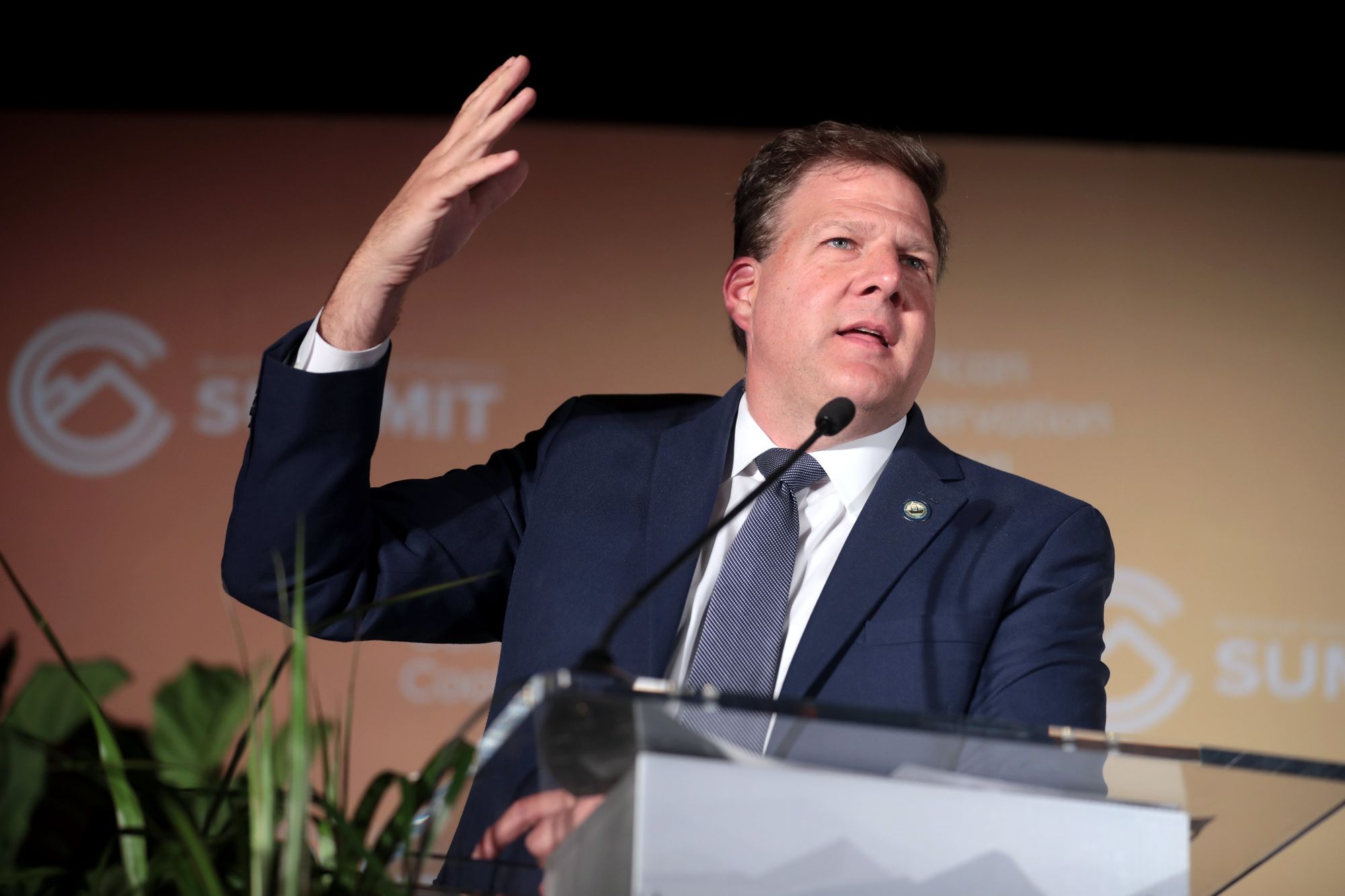 Sununu joined fellow GOP leaders at Republican Jewish Coalition meeting in Las Vegas, where many potential 2024 presidential candidates positioned themselves in contrast to former President Donald Trump.
NH Republican National Committeewoman Juliana Bergeron said Trump won't find favoritism in 2024 primary. "I think he would have to prove himself again. It's not like he's the incumbent now. Now he's just another candidate," Bergeron said in an interview. "As the national committeewoman, with the other people running New Hampshire GOP, we're going to be completely neutral because you can't have the first-in-the-nation primary if we're not neutral. So he's not going to get special treatment from either the RNC or from New Hampshire GOP." As many as 20 candidates are expected in the GOP presidential primary, she said. (Adam Sexton for WMUR's CloseUp) #fitn
More headlines:
---
Have feedback? Contact Steven Porter at news@granitememo.com.