newsletter
Sununu inks energy relief bill. Parties muster for general election fight.
The bill that passed both chambers is a scaled-back version of what the governor had proposed.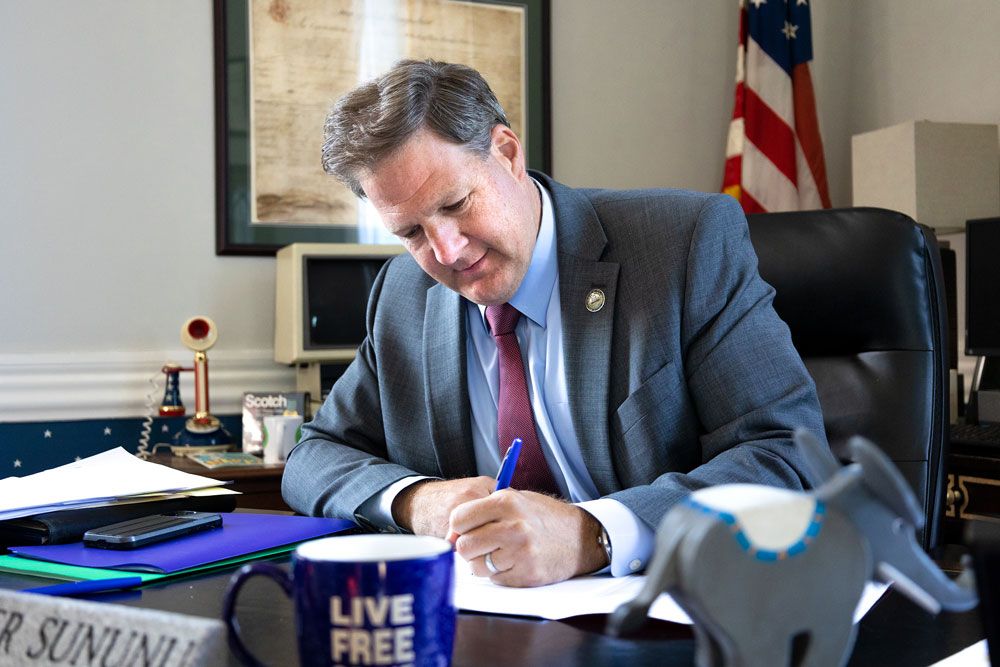 📝
This is your free Friday memo.
Not a member? Sign up to
get the memo
straight to your inbox.
Good morning, Granite Staters. TGIF, amirite? Between the primary election and all the action in Concord, it has been quite a week. And we have more jam-packed weeks on the horizon. Gentle reminder: The general election is just 54 days away.
Here are the highlights of what you'll find in today's memo:
⚡ Energy aid is on its way to NH middle class
📅 Should we hold our state primary earlier?
👩🏽‍🏫 Complaint pending under controversial law
🏃‍♂️ Don Bolduc pivots hard for general election
---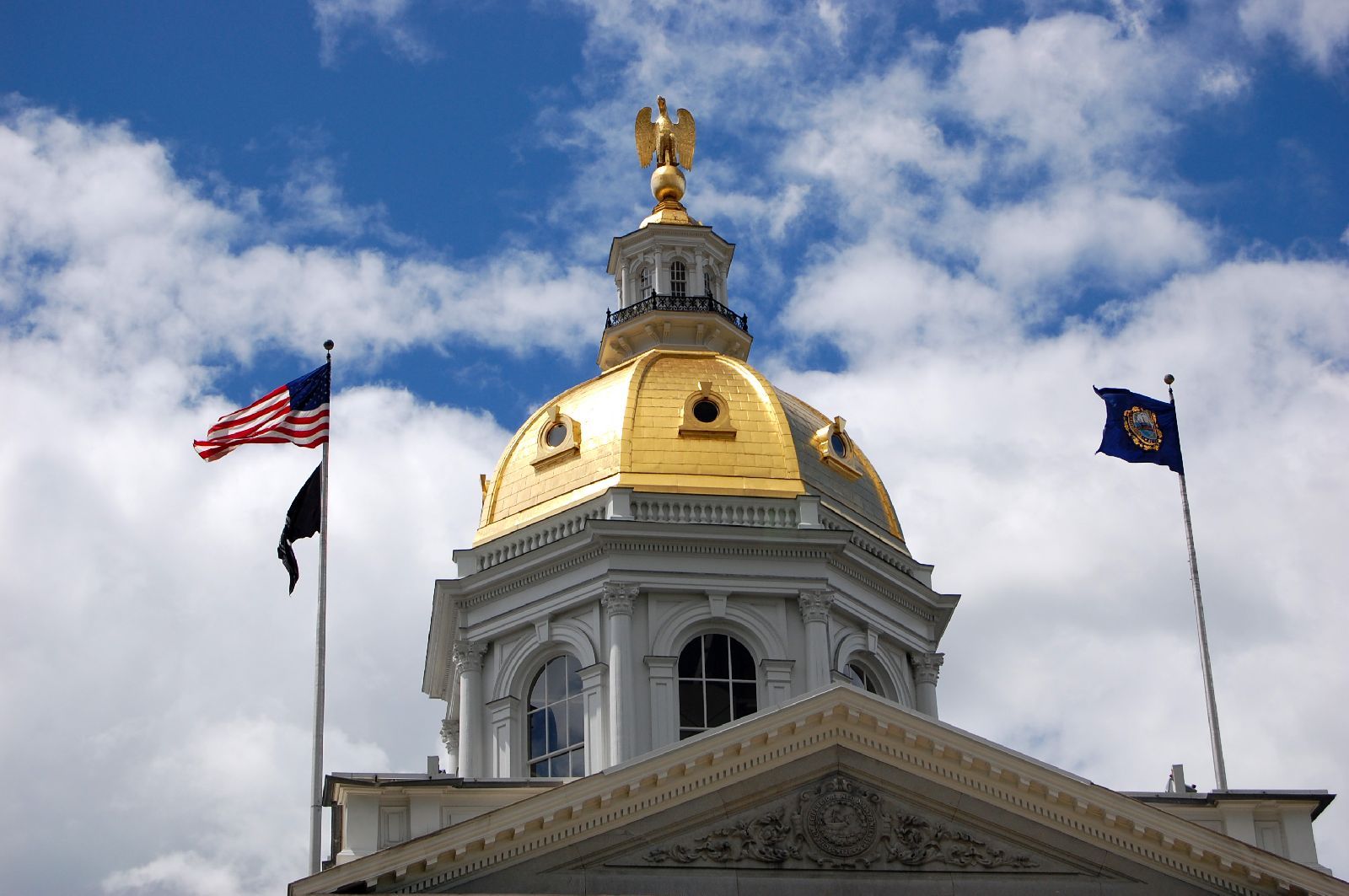 Energy aid for middle class
With rising concerns over high heating costs, lawmakers approved more energy aid Thursday, with additional funding that aims to help middle-class NH residents who qualify and apply.
The bill that passed both chambers is a scaled-back version of what Gov. Chris Sununu had proposed in June. Instead of using $60 million in surplus money to give a $100 credit automatically to all ratepayers as Sununu had proposed, lawmakers decided to use $35 million for households earning 60% to 75% of the state's median income, "which is $75,000 to $93,000 per year for a family of four," as Holly Ramer reported for AP.
That means about 50,000 moderate-income households will be eligible for $650 in one-time payments sent to power and energy delivery companies this winter, as Kevin Landrigan reported for Union Leader. The aid will come in a one-time $450 credit for fuel and $200 for electricity, as Michaela Towfighi reported for Concord Monitor.
The NH Department of Energy website has info on how to apply.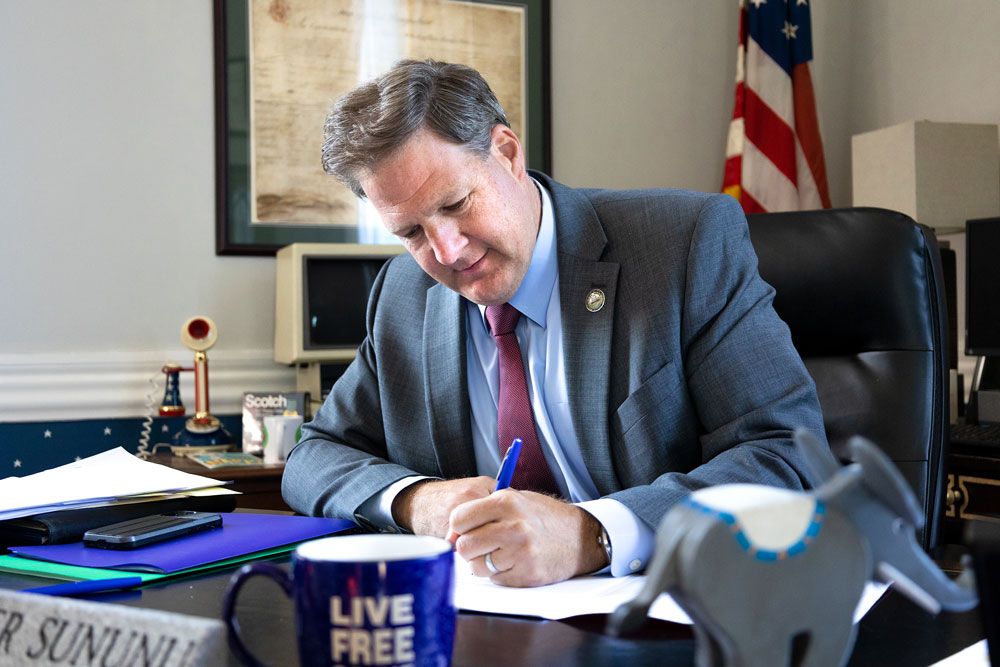 Thursday was also "Veto day" at the State House. All eight of Sununu's recent vetoes survived override efforts. A majority in the NH House voted to save a bill related to siting landfills near bodies of water, but the NH Senate voted to leave the veto intact, so none of Sununu's vetoes were overridden. (WMUR, Kevin Landrigan for Union Leader, Garry Rayno for InDepthNH)
---
About that September primary
There's a fresh push to hold future state primary elections earlier in the year. NH Rep. Joe Sweeney, R-Salem, announced Thursday that he has requested the drafting of a bill that would move the vote up on the calendar.
In a tweet supporting Sweeney's move, the Hillsborough County GOP said the September primary "protects incumbents."
This is the third time Sweeney has initiated this process. But the outcome could be different this time. Sununu, who vetoed previous attempts to move the primary from September to August, said this week that he would be open to moving to a different (non-August) date, such as the second or third week of June, as Amanda Gokee reported for New Hampshire Bulletin.
Looking back at 2022 primary
New ballot-counting law, write-ins delayed primary results. Local officials attributed later state primary results to "a growing body of state election regulations, and a somewhat higher-than-usual number of write-in candidates on voters' ballots." (Josie Albertson-Grove for Union Leader)
Audit underway for ballot counting machines from state primary in Laconia Ward 1 and Hopkinton. The audit is required by law and intends to test the voting system for the general election. Results are to be released by noon Friday. (WMUR)
Tie broken by drawing lots. Mike DiGregorio and Mark Hounsell each had 445 votes in the GOP primary for a seat representing Conway in the NH House. They drew lots Thursday at the NH Secretary of State's Office. Luck was on DiGregorio's side. (Daymond Steer for The Conway Daily Sun)
Newcomer unseats Democratic incumbent. Jonah Wheeler, 19, of Peterborough received more votes than incumbents Ivy Vann and Peter Leishman in the Democratic primary for Hillsborough 33 state rep, so Wheeler and Leishman will advance to the Nov. 8 general election. Vann won't. Wheeler and Leishman will face Republicans Rachel Maidment and Matthew Pilcher. (Ashley Saari and Ben Conant for Monadnock Ledger-Transcript)
Free Stater and other "extremist" NH reps lose primary races in Belknap County. NH Rep. Mike Sylvia, R-Belmont, was defeated by Travis O'Hara. Voters in Gilford, Gilmanton and Laconia also rejected Republican incumbents NH Reps. Norm Silber, Glen Aldrich and Gregg Hough. (Paula Tracy for InDepthNH)
More headlines:
---
Complaint under divisive law
One complaint has been filed under a controversial NH law that regulates how teachers talk about oppression. The 2021 law prohibits teaching that a member of one group is "inherently racist, sexist, or oppressive, whether consciously or unconsciously."
Since the law took effect, just one complaint has been made, according to NH Department of Justice spokesperson Michael Garrity. That complaint, which was "recently filed," is under review by the NH Commission for Human Rights, Garrity told Granite Memo on Thursday. The commission treats complaints as confidential, he said. The commission's website outlines the complaint process as well as the statutes and regulations relevant to the law.
The existence of the pending complaint was reported earlier Thursday by Sarah Gibson for NHPR in coverage related to a federal lawsuit challenging the new restrictions. At a hearing Wednesday, plaintiffs argued the law's wording is too vague, so teachers are shying away from certain classroom discussions.
Attorneys for the state have asked for the case to be dismissed. "They say the law itself and subsequent guidance from the Attorney General's office sufficiently explain what can and can't be taught," as Gibson reported. The judge expects to decide in the next 60-90 days whether to dismiss the case.
The law at issue in this case has frequently been called the "divisive concepts" law.
Draft standards raise concerns
An education advocacy group is expressing concerns over an early draft of changes in the works for the state's Minimum Standards for Public School Approval. Reaching Higher NH said the changes could lay groundwork for the public education system to be "outsourced and commodified," as Eileen O'Grady reported for Concord Monitor.
Education Commissioner Frank Edelblut, who has championed school choice policies, said the changes are part of a routine review, as O'Grady reported. The department contracted Fred Bramante and his nonprofit National Center for Competency-Based Learning to steer the revision process.
---
Bolduc's sudden sharp pivot
Bolduc backtracks on claims 2020 election was stolen. "I have come to the conclusion, and I want to be definitive on this, the election was not stolen," Bolduc told "America's Newsroom" hosts Bill Hemmer and Dana Perino. Bolduc previously said Trump won the 2020 election. (Madeline Coggins for Fox News)
Pence visits NH to support Bolduc. Pence showed his support at an event in Wilton hosted by the Hillsborough Republican Committee. "If there was ever a time for Gen. Don Bolduc in the United States Senate, it's now," Pence said. (Tim Callery for WMUR)
Bolduc hugs Sununu at NH GOP unity breakfast. "It may not have been entirely consensual, but Don Bolduc got his hug from Chris Sununu. ... The two threw down on each other hard during the primary ... But the Senate nominee insisted they were on the same team. ... Boldoc rushed off the stage to a surprised Sununu waiting to speak, threw out his arms, and wrapped him in a rib-squeaking bear hug" (Michael Graham for NHJournal). "The hug by Bolduc appeared to be an attempt to erase a recent history of bad blood between the two men, who now share the top of the GOP ticket on November's ballot in New Hampshire" (Paul Steinhauser for Fox News).
Some in GOP devastated by primary outcome. Ahead of Tuesday's vote, establishment Republicans had expressed concern that electing a hard-right slate of candidates could severely hamper odds of GOP victory in the Nov. 8 general election. As the projected results rolled in, unnamed GOP insiders and strategists said things aren't looking great. "I think we're all f—ed," one reportedly said. (Michael Graham for NHJournal)
Republicans shudder as "extremist" Don Bolduc wins Senate primary. "New Hampshire Republicans have saddled themselves with an exceptionally MAGA-ish Senate candidate in a tough general election ... Before writing off Bolduc, though, it's worth noting that the electorate is so polarized that other wacky Republican candidates ... are doing as well in some polls as their less extremist counterparts. It may all come down to national trends favoring or disfavoring the GOP." (Ed Kilgore for New York Magazine's Intelligencer)  
More headlines:
---
Leavitt's historic victory
Leavitt claims victory in GOP congressional primary, topping five-person field. "At 25 years old, Leavitt is the minimum age for serving in Congress, She said her youth is a driving force behind her campaign. ... Leavitt painted a dark portrait of American life under President Joe Biden. In her victory speech, she portrayed Pappas, 42, as a Democrat in lock-step with his party." (Todd Bookman for NHPR)
Leavitt upsets Mowers, winning GOP primary for NH01. "Ms. Leavitt, who adopted Mr. Trump's brash style and taste for inflammatory statements, was backed by a host of hard-right Republicans in Congress, most notably Representative Elise Stefanik of New York, the No. 3 Republican, who has also styled herself in the former president's image. In her campaign, Ms. Leavitt unequivocally repeated Mr. Trump's lie that the 2020 presidential election was stolen." (Annie Karni for The New York Times)
Stefanik-backed candidate wins MAGA world face-off. "House Minority Leader Kevin McCarthy (CA) endorsed Leavitt's opponent, former Trump advisor Matt Mowers, and a super PAC aligned with McCarthy spent heavily late in the primary campaign to boost him." Leavitt "courted the MAGA wing of the party." Her endorsers include Rep. Jim Jordan, Sen. Ted Cruz, Sen. Mike Lee, Rep. Madison Cawthorn, and others. (Jake Lahut for Daily Beast) #nh01
It's a race for House GOP No. 3 next year — but a lopsided one. Rep. Byron Donalds, R-FL, (who campaigned in Litchfield with Karoline Leavitt, NH01 GOP nominee, the day before the primary) is seen as a long shot for conference chair, but he's still taking on incumbent chair Rep. Elise Stefanik (for whom Leavitt worked as a spokesperson). "Both Stefanik and Donalds would bring their own liabilities to a post that attracts more attention in the House's majority party." (Olivia Beavers for Politico)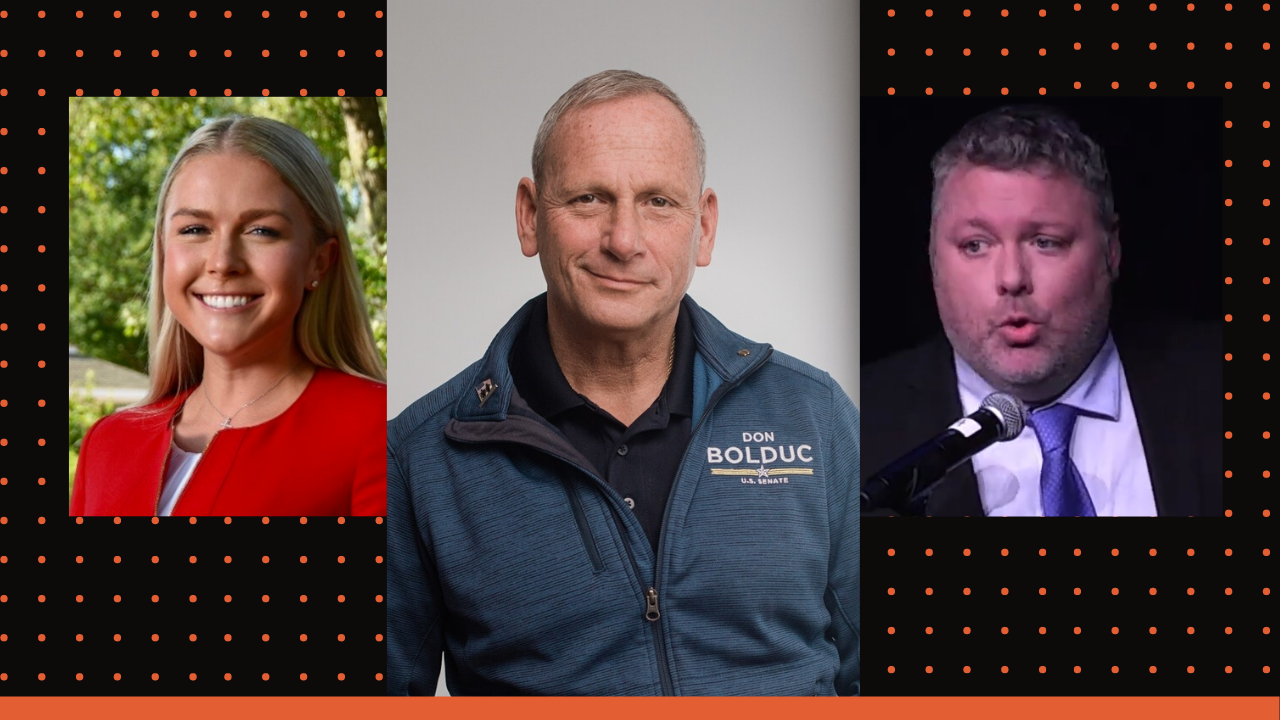 ---
Just a few more
Long-overdue plan for trash disposal criticized for lacking clear strategies. The 18-page draft from the NH Department of Environmental Services prompted nearly 400 pages of public comment, including from the waste management sector and conservation advocates. A final draft will go to lawmakers Oct. 1. (Frances Mize for Valley News) #nhleg
Catholic Medical Center in Manchester launches review after Boston Globe investigation raises accusations about former surgeon (Tim Callery for WMUR)
Restaurants fined for child labor violations, a growing trend. Toscana in Portsmouth and Tuscan Village and Tuscan Market locations in Salem were among four Tuscan Brands businesses that paid a combined $15,737 in civil penalties after a U.S. Department of Labor investigation revealed excessive hours worked by employees 14-15 years old. The DOL also noted numerous child labor violations by 21 McDonald's and Dunkin' Donuts franchises throughout New Hampshire and Vermont. (Ian Lenahan for Portsmouth Herald, DOL)
---