newsletter
Sununu: Think NH voters focused on election denial? You're 'in a bubble.'
Trump just endorsed Don Bolduc, praising him as a "strong and proud 'Election Denier.'"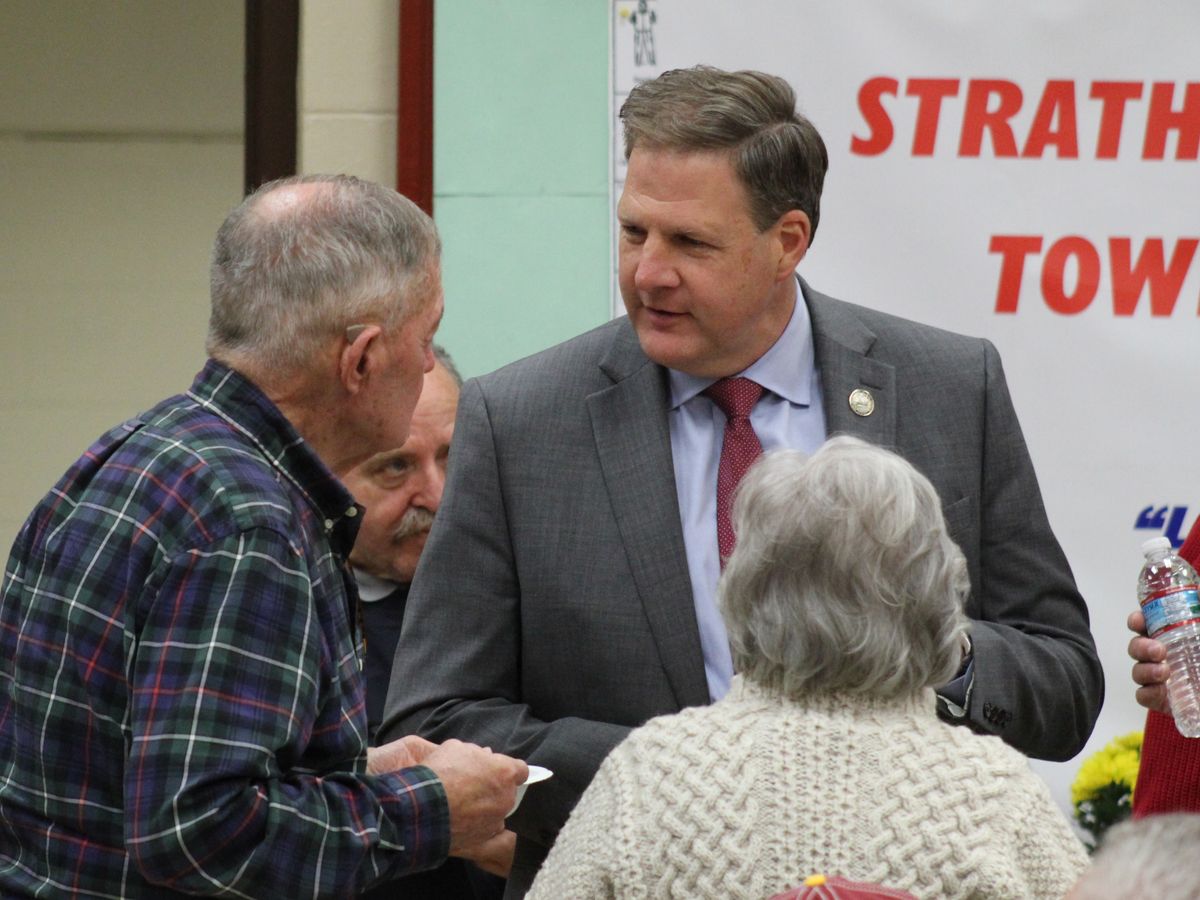 📝
This is your Monday memo.
Sign up for free
to get the memo straight to your inbox.
With eight days left until the election, campaigns are abuzz as candidates make their closing arguments, door-knocking volunteers fan out across the state and voters make their plans to cast a ballot.
Here are your need-to-know highlights from today's newsletter:
📈Election denial isn't top of mind for voters, says Sununu.
🤝🏻Trump endorses "Election Denier" Bolduc like a prodigal son.
🏃🏻‍♀️Democrats muster full field in uphill Executive Council races.
🚪First lady joins ground game as campaigns enter final days.
---
📅Week-ahead rundown
Noteworthy items on this week's calendar:
---
Sununu: Election denial isn't top voter concern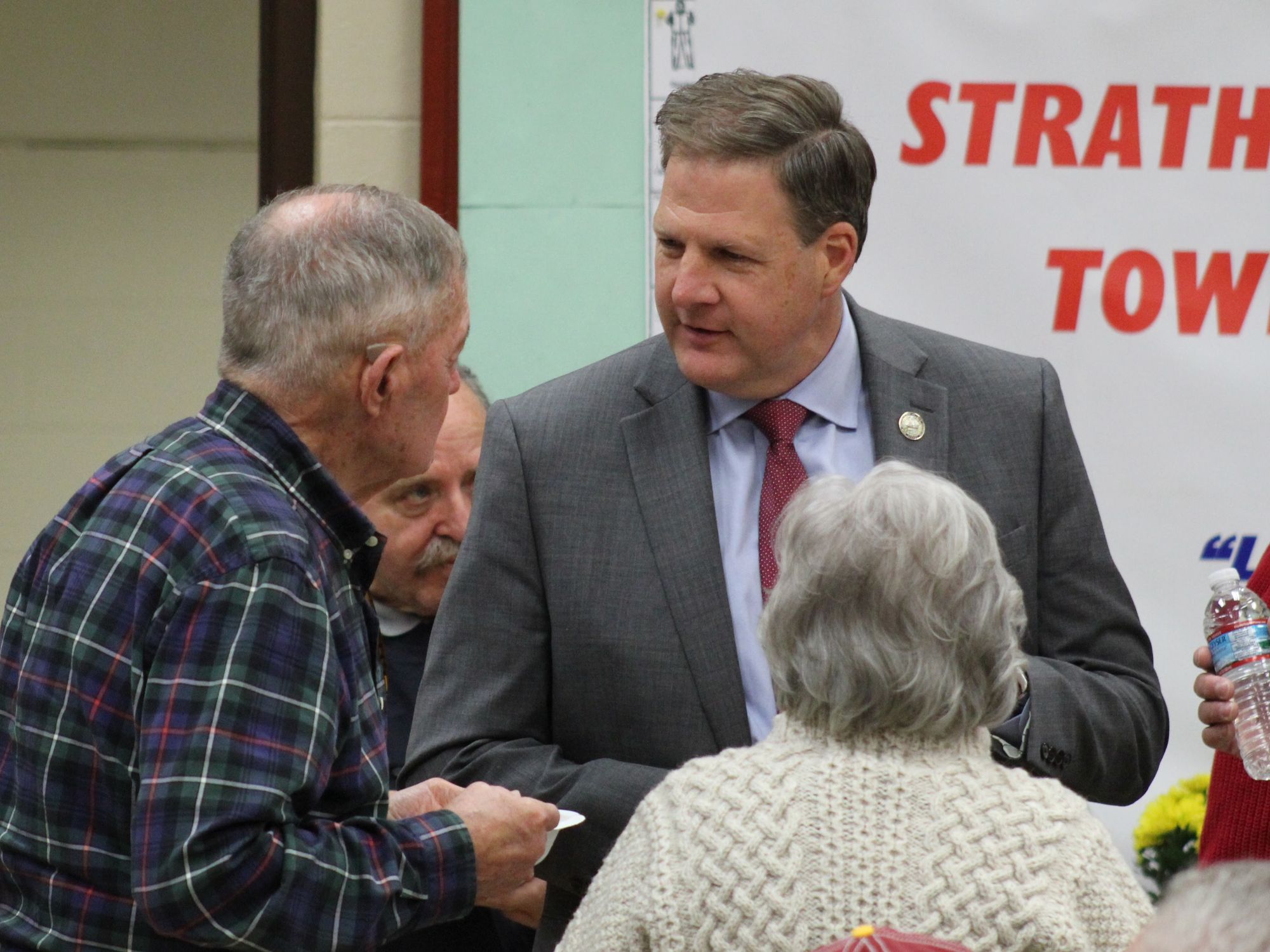 In an interview with Chuck Todd on NBC's "Meet the Press," Gov. Chris Sununu brushed aside a question Sunday about whether inflation is a big enough issue for voters to look past the election-denying records of certain GOP candidates.
"I love you, Chuck, but you are in a bubble if you think anybody's talking about what happened in 2020, or talking about Mar-a-Lago and all that," Sununu said. "I know the press loves to talk about it. People are talking about what is happening in their pocketbooks every single day when they have to buy groceries or fill up gas or right now."
Does Sununu feel democracy currently faces an existential threat? Of course, he said.
"There's no doubt there are threats to democracy," he said. "There's no doubt that's a serious issue and of course we've got to take it on. But when you're talking about what folks are going to be voting on this November, what the top priority issues are, it's inflation, the economy, getting those things under control."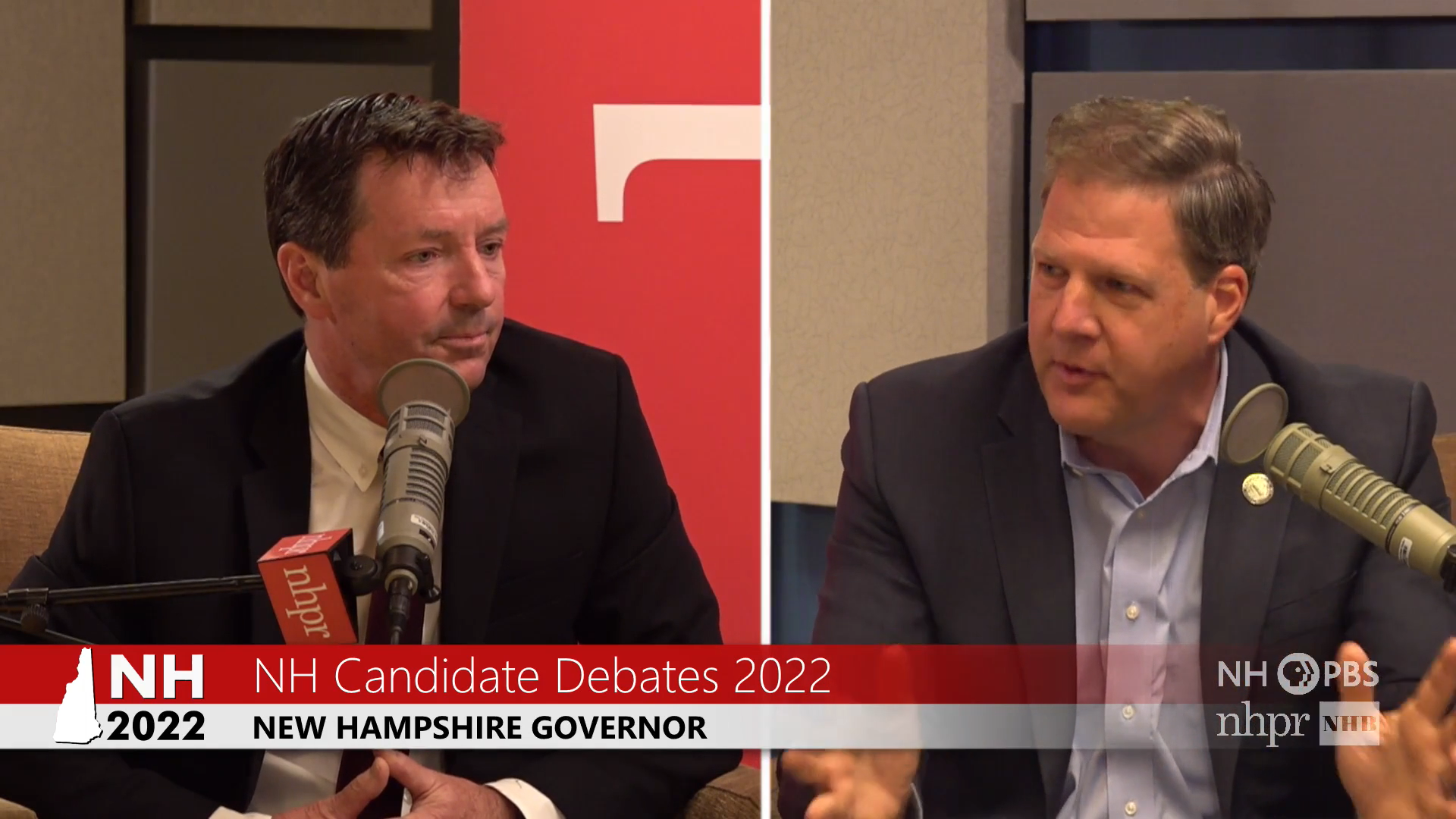 This interview came after Sununu — who's running for reelection against Democratic challenger Tom Sherman — fielded a related question last week about his decision to endorse candidates (like Karoline Leavitt and Don Bolduc) despite their record of comments denying the results of the 2020 election.
"You don't endorse a candidate or support individuals based on one issue, right?" Sununu said during NHPR's gubernatorial debate. "You endorse and support candidates based on fiscal responsibility, leadership, all the other pieces that come into play. If you're going to be a one-issue voter, hey, that's everybody's right. But, no, it's much bigger than that."
You don't endorse a candidate or support individuals based on one issue.
Sununu is likely right to say the 2020 election isn't top of mind for most voters. A poll conducted late last month by the Saint Anselm College Survey Center found that just 10% of likely NH voters cited elections/voting matters as their top concern. That set of issues ranked third, behind abortion at 20%, and the economy/inflation at 33%.
But is he right to suggest that rejecting the certified results of a legitimate election is a mere difference of opinion on policy priorities? It's one thing to raise concerns about election processes and to push for tighter rules. It's another entirely to claim that the losing candidate actually won, and to keep spreading that lie for political gain.
Very early Monday morning, former President Donald Trump announced on social media his endorsement of Bolduc, describing Bolduc's waffling about the 2020 election's legitimacy as a central part of his candidacy.
"He was a strong and proud 'Election Denier,' a big reason that he won the Nomination, but he then disavowed," Trump wrote. "He has since come back, at least on busing, but that is only a small part of N.H. Election Fraud. Nevertheless, Don Bolduc has asked for my Endorsement, and he's got it, Complete & Total."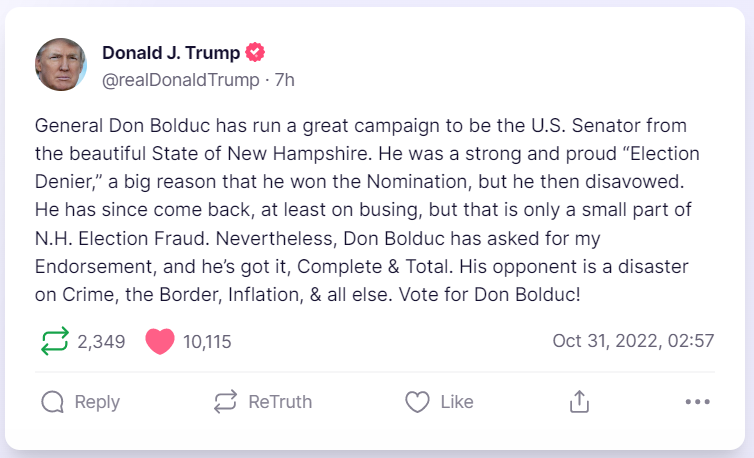 The "busing" reference points back to a comment Bolduc made last week, when he suggested NH officials needed to do more to ensure "school buses" of illegal voters weren't coming into the state.
"Bolduc frames this idea as being a response to voters' concerns rather than a concern of his own. This is a common way in which Republicans have managed to elevate fraud claims from a distance," as Philip Bump explained for The Washington Post.
Sen. Maggie Hassan, the Democratic incumbent facing Bolduc in the Nov. 8 election, issued a statement calling Trump's endorsement "further evidence that if elected, Don Bolduc would work to overturn our elections and continue to promote dangerous conspiracy theories that undermine New Hampshire's free and fair elections."
Bolduc's campaign said the retired Army brigadier general welcomes Trump's support, along with that of anyone else who wants the country to head in a new direction, as Kevin Landrigan reported for the Union Leader.
Trump earlier endorsed Republican nominee Karoline Leavitt in her NH01 race against Democratic incumbent Rep. Chris Pappas, and he endorsed Republican nominee Robert Burns in his NH02 race against Democratic incumbent Rep. Annie Kuster.
More #nhgov notes:
Unlike in other states, NH voters seem to regard 2022 governor's race as entirely separate from U.S. Senate race. "Sununu, a popular Republican, is far ahead in the polls and expected to romp to victory over state Senator Tom Sherman, the Democrat. Yet Senator Maggie Hassan, the Democratic incumbent, is also favored over Republican Donald Bolduc, a far-right candidate who prevailed in the primary after Mr. Sununu declined to jump into the contest, where he would likely have been favored." (Carl Hulse for The New York Times)
Tom Sherman makes case for governor at Temple Adath Yeshurun candidate event. Sherman touted his experience in the NH legislature and as a medical professional. He also attacked Sununu on a variety of topics, including education, rents and property taxes, abortion, the cost of child care and more. The event moderator said attempts to reach Sununu to participate were unsuccessful. (Andrew Sylvia for Manchester Ink Link)
---
Uphill fight for Executive Council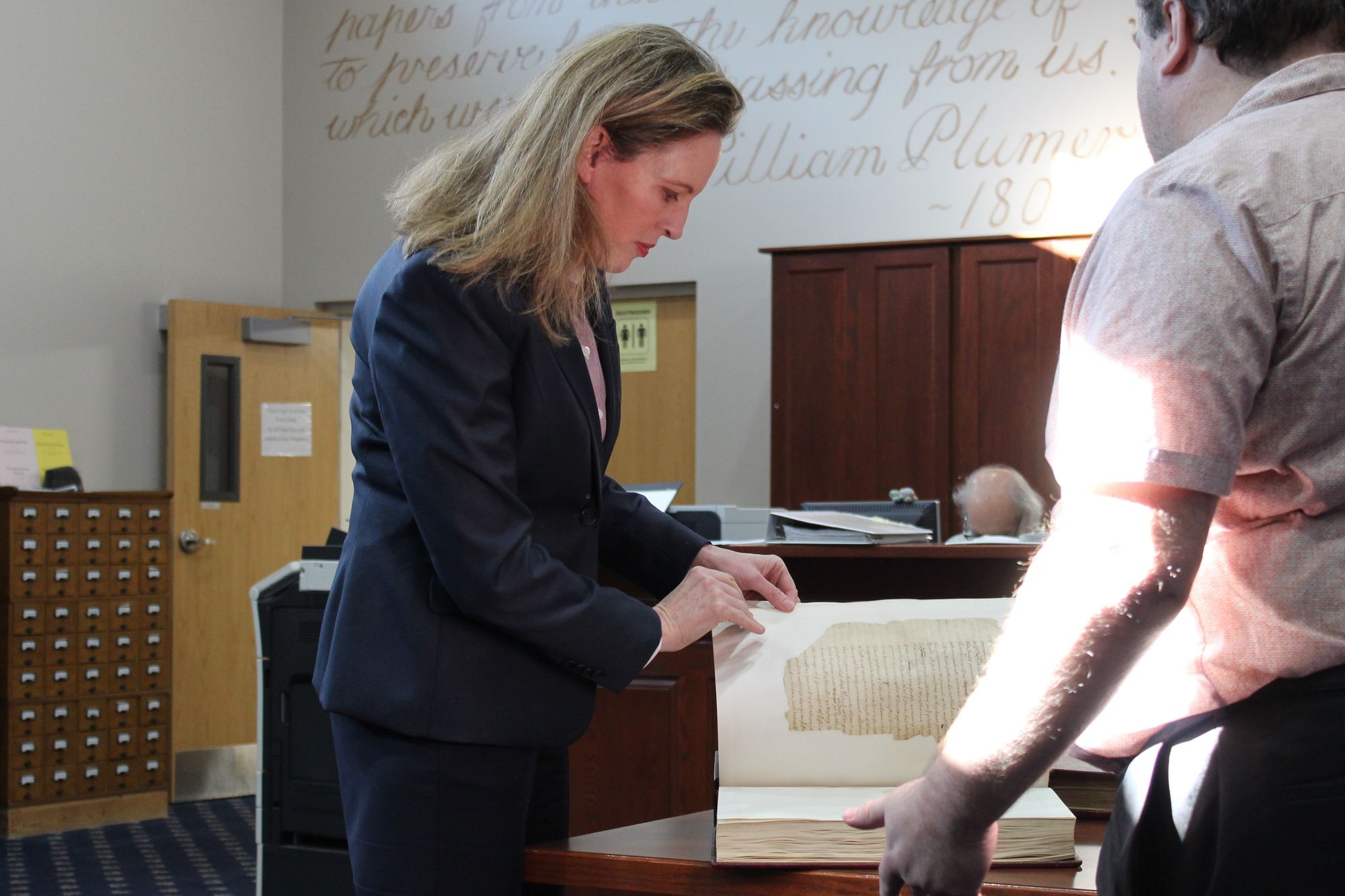 Despite their long odds, Democrats have mustered a full field of candidates to contest all five Executive Council races. A few notes:
Andrew Smith, director of the UNH Survey Center, said the redistricting process left the council with three districts that are solidly Republican, one district that leans Republican, and one district that is solidly Democratic.
Democrats could take the Republican-leaning district "in a big Democratic year," but historical patterns suggest this year isn't likely to be a big Democratic year, Smith said.
Democrats filed a lawsuit alleging partisan gerrymandering, but a judge dismissed the lawsuit, concluding that it presents a purely political question.
All five incumbents are favored to win reelection, so Republicans are likely to hang onto their 4-1 majority.
Read my full story for the Granite State News Collaborative via the Portsmouth Herald:
---
Get the memo.
Keep tabs on NH politics with updates straight to your inbox.
Sign up for free
---
Bolduc reciting debunked claims
Bolduc repeats hoax that kids are using litter boxes in schools. He claimed Thursday that kids are being told they can identify as anthropomorphic cats and use litter boxes in schools. "The claim, which has occasionally been cited by some Republican politicians, has been repeatedly debunked." (Andrew Kaczynski for CNN)
Bolduc goes on the offensive, but stumbles into contradictions. "Bolduc said he stood by 'Granite Staters' who 'can't trust mail-in ballots,' who believe in 'proven irregularities' with voting machines, and maintain that the state's same-day voter registration rule 'causes fraud.' Moments later, he said his realization that the 2020 election had been fair proved that he is willing to recognize when he is wrong." (Jonathan Weisman for The New York Times)
Analysis: In an era of innovative vote-fraud claims, Don Bolduc dusts off a classic. Bolduc conjured the image of "school buses" of illegal voters coming into NH. "Bolduc frames this idea as being a response to voters' concerns rather than a concern of his own. This is a common way in which Republicans have managed to elevate fraud claims from a distance." (Philip Bump for The Washington Post)
Bolduc claims to have invited Hassan to another debate. At a town hall event in Windham on Saturday, "Bolduc told the crowd he planned to take (his) message directly to Hassan during a Lincoln-Douglas style debate he proposed for the State House steps in the final days of the campaign." Bolduc said, "I've invited her." Hassan's campaign, however, said it hadn't hear from Bolduc's campaign about any proposed debate. Their third and final scheduled debate, on WMUR, is this week. (Todd Bookman and Josh Rogers for NHPR)
---
Bolduc and Hassan on CloseUp
Bolduc says GOP spending cuts will ease inflation in 18 months. Bolduc said there are plenty of programs available for nearer-term help for those who need it.
Bolduc commented on his plan for a "Fair Tax," which Hassan has criticized as including a national sales tax. "When asked what Bolduc's proposal would be if it doesn't include a consumption tax, he seemed to indicate it would be an income tax." (Adam Sexton for WMUR's CloseUp).
Was the 2020 election stolen from Trump? "No," Bolduc said flatly. Why did he claim as much throughout the primary campaign then flip? "Listen, I have been clear on this, right? And I have evolved in my opinion, just like I will evolve in my opinion on many matters that involve all Granite Staters." He said there are issues with election integrity. (Adam Sexton for WMUR's CloseUp).
Hassan defends her campaigning style, says debates provide opportunity to face criticism. Why doesn't she do town halls? Hassan said as governor and senator, she has worked to listen to voters in a variety of venues. "That approach works. This doesn't start with campaign season or end with campaign season for me. This is an ongoing process." This has allowed her to address Granite Staters' issues, she said. Hassan said debates and forums in recent weeks have included critical questions. (Adam Sexton for WMUR's CloseUp)
---
Jill Biden joins GOTV push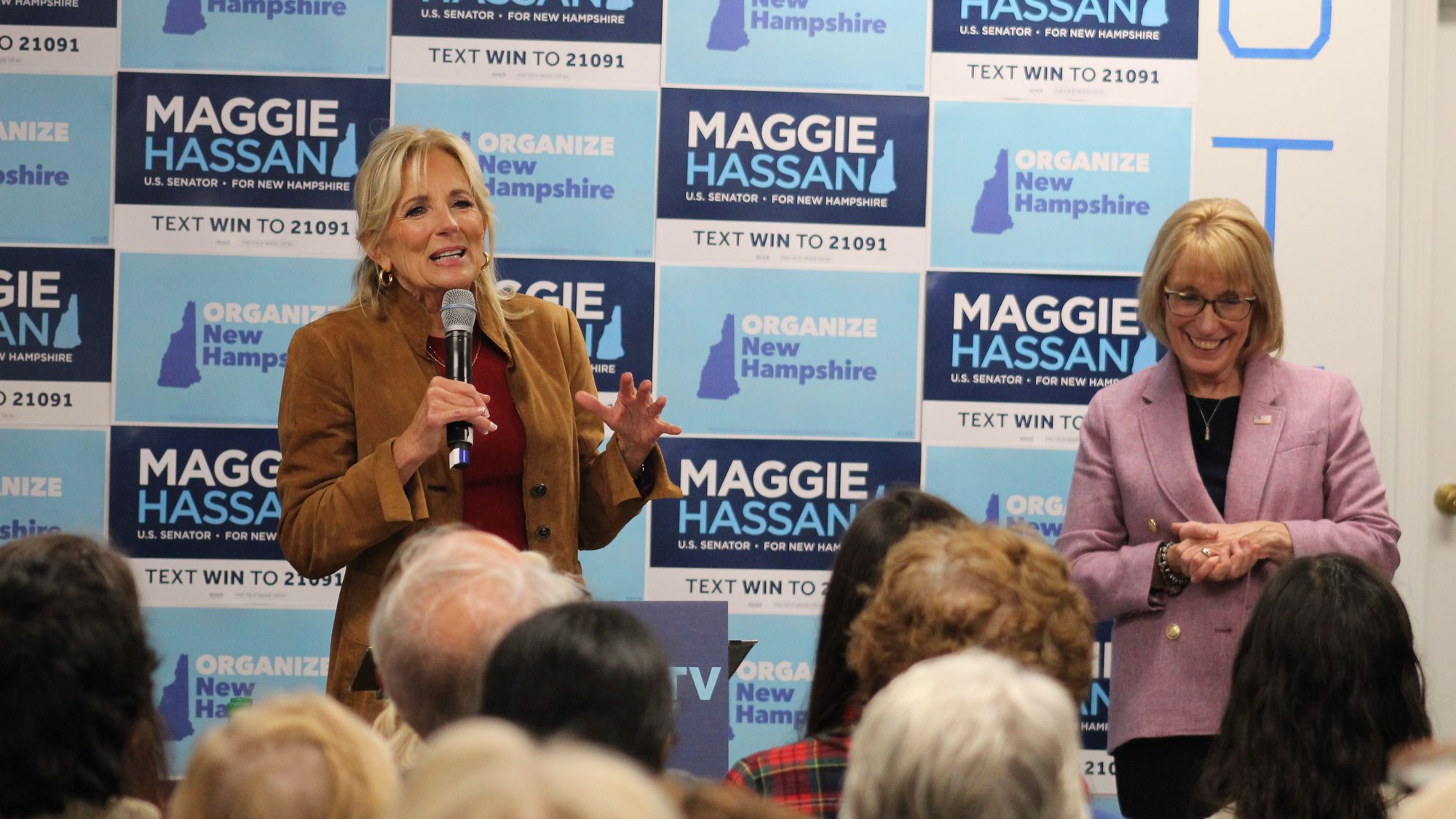 First lady Jill Biden speaks to Teamsters in Manchester to motivate Maggie Hassan's canvassers. "The First Lady extolled the virtues of Sen. Hassan while making it clear that this Senate election pits candidates who couldn't be more different. 'What you do on Nov. 8th won't just affect the course of the future of New Hampshire,' Biden said. 'You'll help decide the future of our country as well.'" (Andrew Sylvia for Manchester Ink Link)
Jill Biden pushes for Hassan and Democrats in Portsmouth. "Every election is important, but we know that in the midterms especially, it could come down to just a handful of votes," Biden said. That's why the work Democratic volunteers put into these final days of the campaign to get out the vote is so important, she said. (Steven Porter for Granite State News Collaborative via Portsmouth Herald)
On the trail: In final stretch to election, it's all about getting out the vote. For Democrats and Republicans alike, "a number of close contests could come down to which side has better GOTV efforts." (Paul Steinhauser for Concord Monitor)
Bolduc plays to friendly crowd in Claremont stop. "What has happened over the past 40 to 50 years is that our politicians have removed God from the public square. And by removing God, we have undermined our institutions to the point where they are being led by unelected bureaucrats and career politicians to do the business of special interests," Bolduc said. (John Lippman for Valley News)
Hassan touts record of bipartisanship in Senate reelection pitch. "There is common ground among Democrats and Republicans, and that's because there's common ground among Americans," Hassan said. "We have to continue to intentionally work to find that common ground to ignore the polarization and the partisanship wherever we can." (John Lippman for Valley News)  
More #nhsen headlines:
---
Buckle up for slow ballot count
Cities and towns with AccuVote machines urged to have more volunteers for Nov. 8 election. Secretary of State David Scanlan said clerks should prepare to deal with an "organized effort" in which voters use write-in technique to force a hand-count of their ballot. Such an effort kept volunteers up until 3 a.m. to count primary votes in Derry. (Kevin Landrigan for Union Leader)
Scanlan explained the delay-causing write-in technique: "What occurred in the in the primary election was that some voters were writing in the names of candidates whose names already appeared on the ballot and voted for them that way, so at least that portion of the ballot had to be hand counted – that simply adds work for the local election officials. In the primary, the cities and towns weren't prepared for that extra work, so it took longer time into the evening to hand count those ballots." (NH PBS "The State We're In"; written Q&A).
Heads up: This could delay NH election results. "Secretary of State David Scanlan is recommending that local election officials not publicly read out the vote-counting machine results, as they have in the past until the machine count is fully reconciled with the hand-counted ballots." (Adam Sexton for WMUR)
Reports from three moderators appointed for primary election now available. The monitors were appointed after recent ballot-counting issues were identified in Bedford, Windham and Laconia Ward 6. The reports, which were due within 30 days after the Sept. 13 primary, were published recently on the NH Secretary of State's website. (Granite Memo)
---
Presidential parade sleepier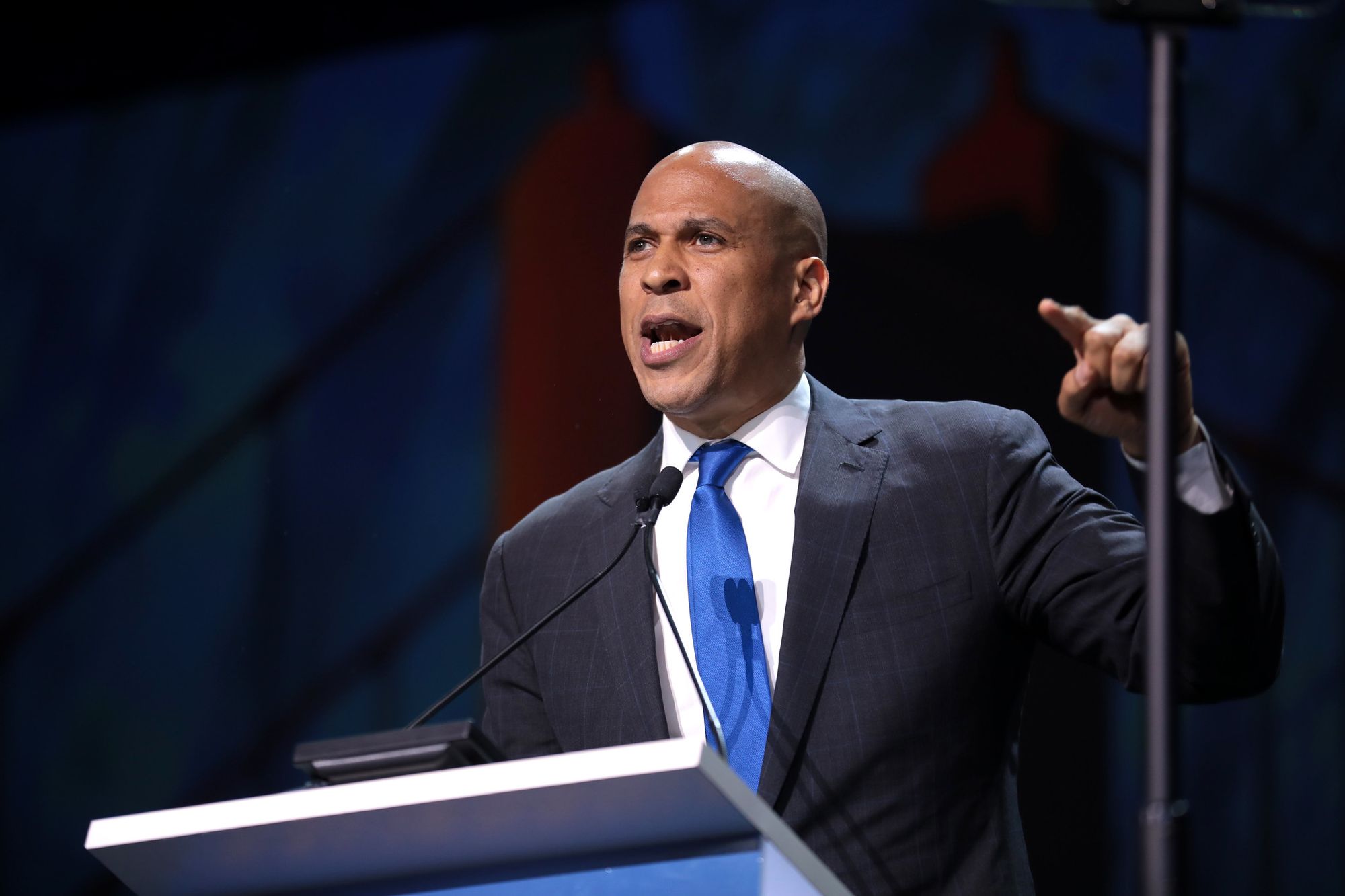 New Hampshire isn't feeling the 2024 love. "The stream of would-be presidential hopefuls that typically flows through New Hampshire has slowed to a trickle ahead of November." There are a few factors. Voters nominated hard-right candidates, "seemingly cutting the Democratic incumbents a break." It's also uncertain whether Democrats will rework their primary calendar. And another Trump-Biden showdown could diminish New Hampshire's role. (Lisa Kashinsky for Politico) #fitn
Cory Booker backs NH first-in-the-nation presidential primary. Booker, a Democratic U.S. senator from NJ who ran in the 2020 presidential primary, said, "I get it now after coming here. It is a small state where people really get involved and really get to know their candidates. I want this state to remain at the top of our primary list. I think that its history and its legacy have earned to be at the top group, in the top order." Booker said Biden should run for reelection in 2024. (Adam Sexton for WMUR) #fitn
Most NH voters open to Sununu for president. A poll for NHJournal found that 67% of likely general election voters would definitely (16%), likely (13%), or maybe (37%) support a presidential bid by the incumbent governor. Only 34% said they were not open to backing Sununu for president. (Michael Graham for NHJournal) #fitn
---
More headlines driving conversation:
---
Have feedback? Contact editor Steven Porter at news@granitememo.com. 🎃