analysis
The question that ruffled Karoline Leavitt's feathers
I may have been the first person to pose that question after her victory in the GOP primary. But I'm guessing I won't be the last.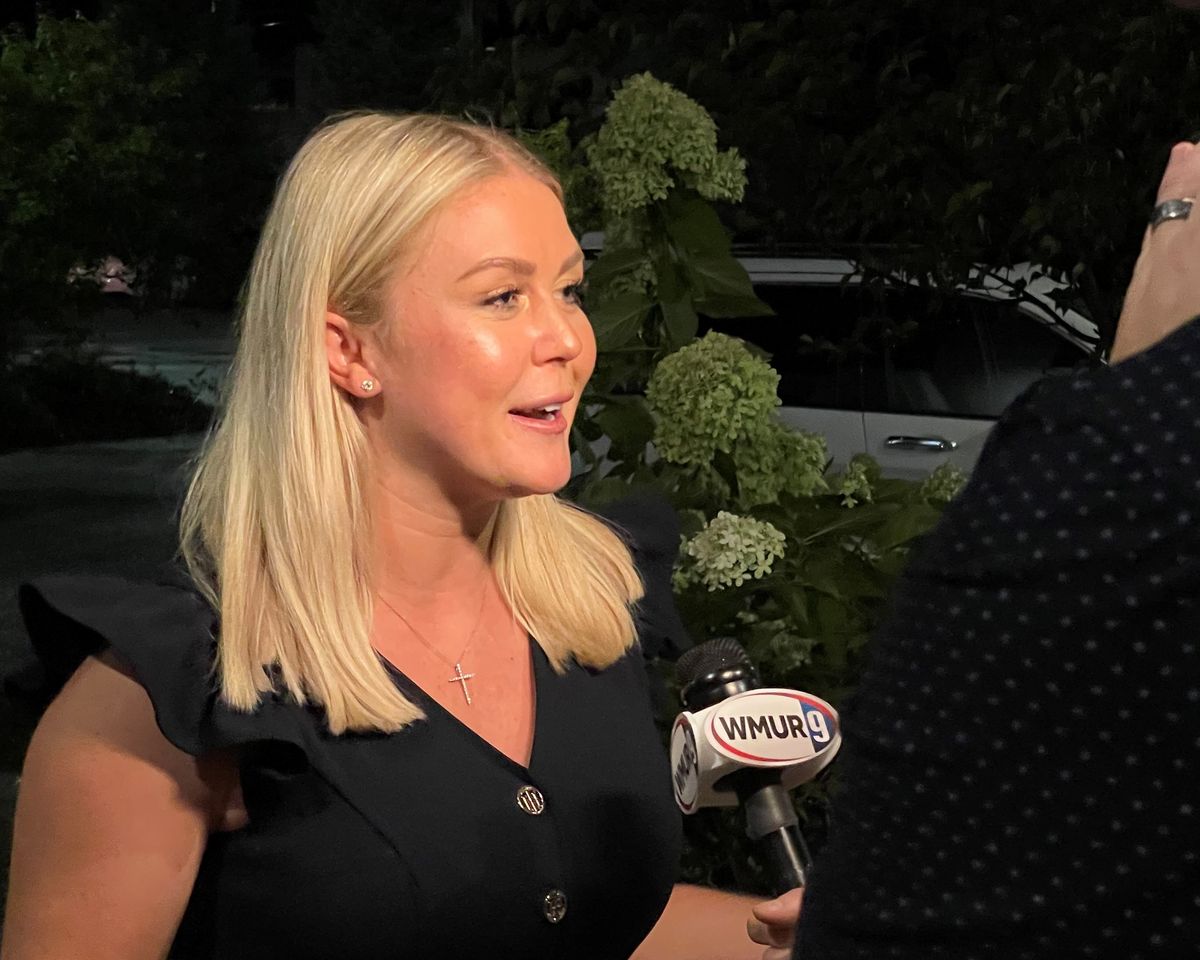 Before I tell you about the question that prompted Karoline Leavitt to end our interview, first let me set the scene.
It was nearly midnight on the day of the primary election. Leavitt had just delivered an impassioned victory speech to a packed room of elated supporters in Hampton, recounting how her team raised funds and knocked on 70,000 doors for her campaign.
"Over the last year, we were outspent, but we were not outworked – no way – and tonight our hard work has truly paid off," she said, as cheers filled the room.
As the projected winner of the Republican primary for New Hampshire's first congressional district, Leavitt again vowed to oust Rep. Chris Pappas, the incumbent Democrat. Her campaign ahead of the Nov. 8 general election is focused, she said, on "stopping the radical Biden/Pelosi/Pappas socialist agenda in its tracks."
Her speech came after NH Rep. Al Baldasaro, R-Londonderry, called on Leavitt's supporters to make sure she beats Pappas then "kicks ass and takes names" in Washington. And it came after supporters in the room said they voted for her to spur a conservative shift in New Hampshire and the nation.
"People in my generation see where this country is going, and we want to turn it in a different direction," said Annie Wade, 27, of Rye. Wade praised the sincerity of Leavitt's opposition to abortion and to transgender athletes competing in women's sports.
Pappas, meanwhile, has campaigned on his support for abortion rights and protections for LGBTQ people.
Get the memo.
Keep tabs on NH politics with updates straight to your inbox.
Sign up for free
A few tears, then several interviews
As she stepped outside for back-to-back interviews with WMUR and Fox News, Leavitt wiped her eyes and said she had just shed a few tears of joy. She answered questions about the accomplishment she was celebrating and the broad contours of her plan to carry her momentum forward.
Then she came to speak with me and another print reporter.
I started by asking Leavitt about what the results mean for the future of the Republican Party in New Hampshire. Then I asked about some eyebrow-raising comments Pappas had made about elected officials he called "extremists" coming to campaign for her.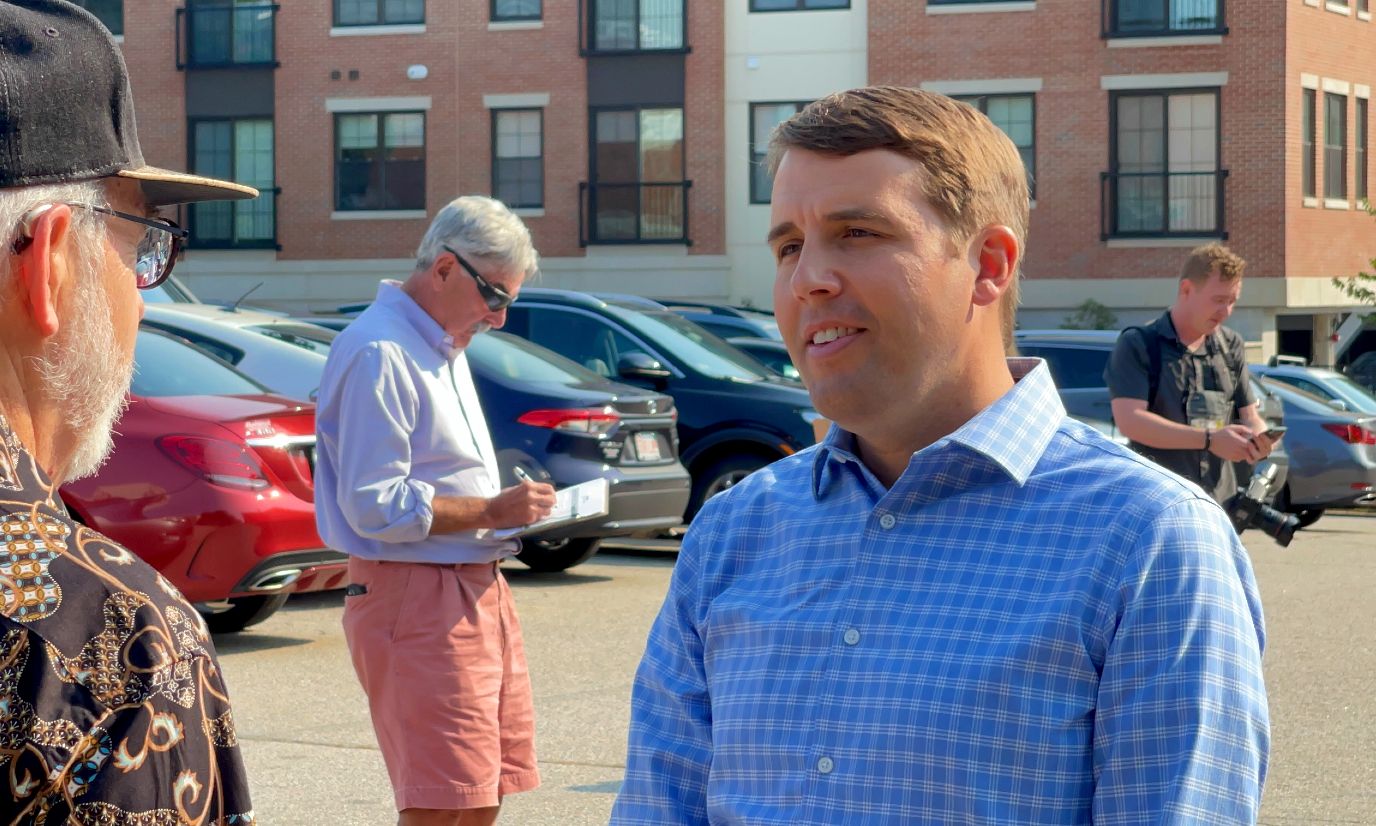 My counterpart from another news outlet, Max Sullivan for Seacoastonline, then asked Leavitt about her claims that the 2020 presidential election was rigged in Joe Biden's favor. He asked about how those claims will factor into the general election.
Leavitt had recited some of those claims during a debate last month with four of her GOP opponents: "I'm the only candidate to say that the 2020 election was stolen, and Joe Biden legitimately did not win 81 million votes," she said back then. Leavitt claimed pandemic-related changes to election procedures, "unelected bureaucrats" and the news media all tilted the scales in Biden's favor.
In response to Sullivan's question, Leavitt said that when it comes to protecting our elections, it's Pappas who should be scrutinized for his support last year of the For the People Act, an election overhaul bill that narrowly passed the House but stalled in the Senate.
"We should elect leaders who want to support state and local control over our election system, our education system and our economy. Chris Pappas wants the federal government to have control over all of those things," she said.
Pappas, who cosponsored the legislation, has called it a "landmark bill that will strengthen our democracy."
The final feather-ruffling question
I chimed in with a follow-up question that Leavitt clearly did not appreciate: "How are you confident tonight that you won?" I asked. "Can you share with voters why you're confident that tonight's vote was legitimate for your victory?"
I wasn't being snitty. I was confident that Leavitt won the GOP primary, even as she declared victory before her top opponent conceded. Leavitt captured more than 34% of the vote, well ahead of Matt Mowers, who finished second with about 25%, according to unofficial results. Leavitt clearly won.
I asked the question because I believe it would be helpful for voters to hear the basis for Leavitt's confidence in the outcome of this contest, especially since she has expressed a lack of confidence so many times in the past. I figured she would respond by highlighting one or more reasons why the 2022 vote isn't like the 2020 vote or why New Hampshire elections aren't like those held in certain other states. Instead, she let out an unamused half-chuckle.
"Yeah, I'm going to end the interview here," she said.
At least she responded to my question before walking off: "The results prove it," she said. "The work that we've put in over the last year proves it. As I said in the speech tonight – and I hope you'll quote me on it – we knocked over 70,000 doors over the last year. My team has made more phone calls, we've raised more money from the people of New Hampshire than any Republican candidate in this race by far. The numbers and the money prove our victory tonight, and we're very confident we'll be victorious on Nov. 8 as well."
Why the confidence question matters
I may have been the first person to pose that question directly to Leavitt after her victory in the GOP primary. But I'm guessing I won't be the last to do so before (and perhaps after) the general election. Whether she's victorious on Nov. 8 or not, the question is fair and germane.
If you claim an election was rigged when your candidate loses and then you claim victory when your candidacy succeeds, then you should expect follow-up questions about your views on the difference between legitimate and illegitimate elections.
Door-knocking and fundraising may very well be what propelled Leavitt to victory in the GOP primary, but a campaign's hard work isn't what legitimizes the results of any election. Biden and Trump each worked hard and raised hundreds of millions of dollars for the 2020 presidential election. Did that legitimize the results in Leavitt's view? Nope. So what's different in 2022? Unclear.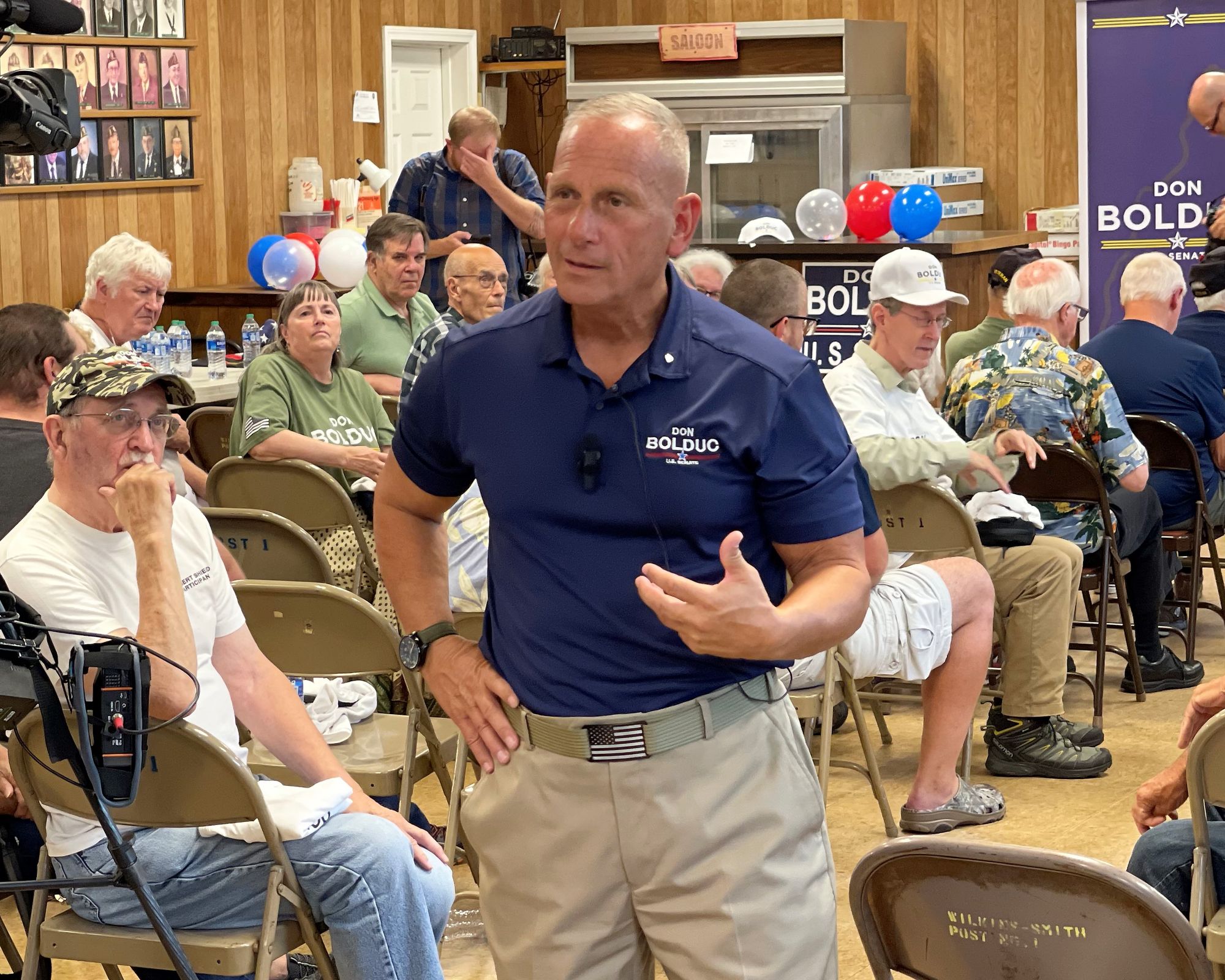 Leavitt isn't the only Republican candidate in New Hampshire who has spread Trump's "Big Lie" rather than accept Biden's victory.
The GOP nominee for U.S. Senate, retired Army Brig. Gen. Don Bolduc, drew raucous applause last month when he reaffirmed his false claim that "Trump won." But less than 48 hours after Bolduc won his primary, he went on Fox News to disavow his prior stance. "I have come to the conclusion – and I want to be definitive on this – the election was not stolen," he said.
Bolduc is up against Democratic incumbent Sen. Maggie Hassan. In response to Bolduc's about-face, Hassan campaign spokesperson Kevin Donohoe said, "A word salad on Fox will not erase his record of election denial."
Overcoming election skepticism
Mowers responded positively to Bolduc's comments on Fox News. "Even if it is politically advantageous, I'm glad to see @GenDonBolduc speak honestly about his position on the 2020 election," Mowers tweeted. "Will other GOP candidates follow suit and finally be truthful about where they stand?"  
Some GOP insiders interpreted Mowers' tweet as criticism of Leavitt, but Mowers said he was speaking more broadly about Republicans nationwide adopting Trump's unfounded "stolen" election rhetoric, as Michael Graham reported for NHJournal.
"Joe Biden and the Democrats have made a mockery of our country, but the American people are only going to hire Republicans to fix the mess when we offer them hard truths and solutions, not convenient lies," Mowers told NHJournal.
Bob Burns, the GOP nominee to take on Democratic incumbent Rep. Annie Kuster in the second congressional district, delivered a related message at a GOP unity breakfast on Thursday.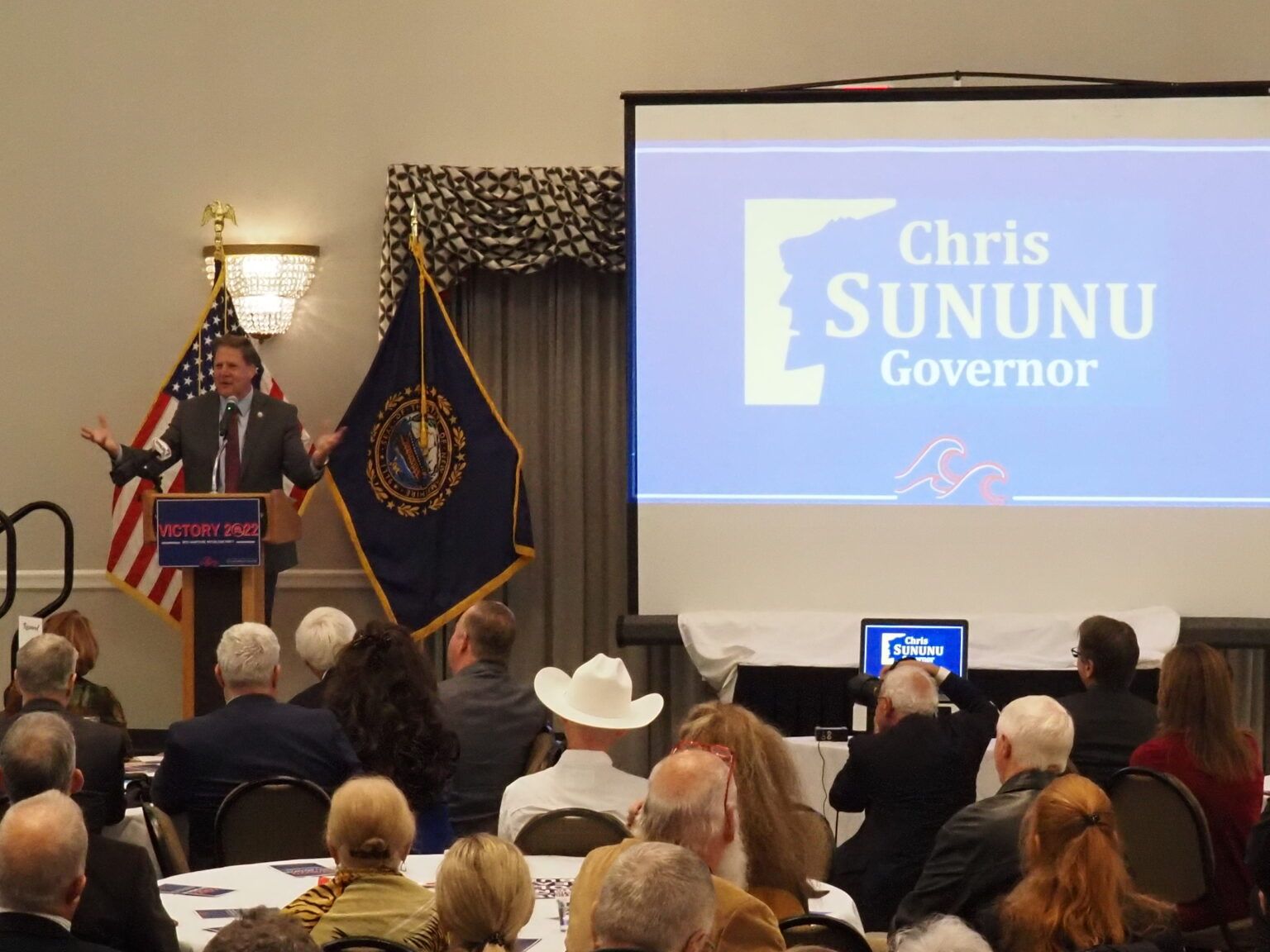 Burns – who has acknowledged Biden's 2020 victory, while claiming that "a ton" of other elections were "stolen" that year – told fellow Republicans to focus on motivating voters this fall, as a lack of trust in elections could pose a challenge.
"You need to find those Republicans who don't show up, who sit around complaining, talking about talk radio, talking about how their vote isn't counted, talking about how the election was stolen, and you need to say, 'Get out there. What is it going to cost you?'" Burns said, as Ethan DeWitt reported for the New Hampshire Bulletin.
When asked in June about the 2020 election, a majority of New Hampshire voters expressed confidence in the state's electoral system, even as many have reservations about voter fraud nationally, according to a Granite State Poll conducted by the UNH Survey Center.
But the results differed significantly based on political party. Nearly 95% of Democrats and 71% of independents said they are "very" confident their 2020 vote was counted accurately. Just 29% of Republicans expressed that level of confidence.
In addition to highlighting just how deep the trust deficit has gotten among GOP voters, the data offer a rough sketch of the difficult road ahead for Republican candidates who have rejected the 2020 election results and who now hope to broaden their base by winning over independents and perhaps some Democrats as well.
This dynamic isn't unique to the Granite State. It's now common across much of the country.
Looking nationwide, FiveThirtyEight reviewed every GOP nominee for U.S. Senate, U.S. House, governor, secretary of state and attorney general. The analysis found that 60% of Americans this year will have at least one election denier on their ballot.
Get the memo.
Keep tabs on NH politics with updates straight to your inbox.
Sign up for free